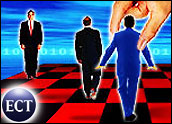 House Democrats today will introduce a new "innovation" strategy for the U.S. economy in a speech at the National Press Club by House Democratic Leader Rep. Nancy Pelosi (D-Calif.), a spokesman for the leader's office, Russ Kelley, told TechNewsWorld.
Pelosi will be announcing the "Democrats' new 'Innovation Agenda — A Commitment to Competitiveness to Keep America Number One,'" said Kelley.
After convening a number of regional roundtables with business, technology and academic leaders across the United States, House Democrats are launching this effort as part of a "commitment to guarantee America's competitive edge in the world," Kelley added.
The agenda aims to create "a new generation" of innovators, spur innovation through research and development, guarantee broadband access for all Americans within five years, achieve energy independence in 10 years, and create a competitive small business environment, he said.
Many Notes in This Tune
The Democrats, however, aren't the only ones pushing for new technology policies in Washington to stimulate the economy.
Sixty patient, health and technology groups this week urged Congress to pass legislation that reverses a Small Business Administration (SBA) decision that has discouraged and halted new medical research and technology development.
In a letter delivered to Pelosi, House Speaker Denny Hastert (R-Ill.), and other Congressional leaders, the groups call for passage of legislation that restores the eligibility of technology companies in the health care field to receive Small Business Innovation Research (SBIR) funding grants.
The letter was released at a Capitol Hill press conference sponsored by the Biotechnology Industry Organization (BIO).
The SBA bureaucracy has blocked funding for certain research in health technology, and the Congress should reverse that, said Jim Greenwood, BIO's president and chief executive officer.
"Legislation is needed to eliminate the regulatory interpretation that is stifling promising research that could improve the health and lives of people living with many diseases," Greenwood added.
Small Companies Hardest Hit
The current SBIR rules hit hardest at small companies that are developing new technologies.
"The American public is best served by letting the experts decide the most innovative new technologies," Dr. Gerard McGarrity, president and CEO of Intron, said.
Under the SBA's interpretation of eligibility requirements for SBIR grants, companies that are 51 percent owned by a group of private investors no longer qualify. This interpretation is a departure from the eligibility assessment used in the first 21 years of the program, experts said.