HP stepped into the world of classroom computing Wednesday with the debut of its Mini 100e Education Edition, a netbook designed specifically for elementary-level classrooms.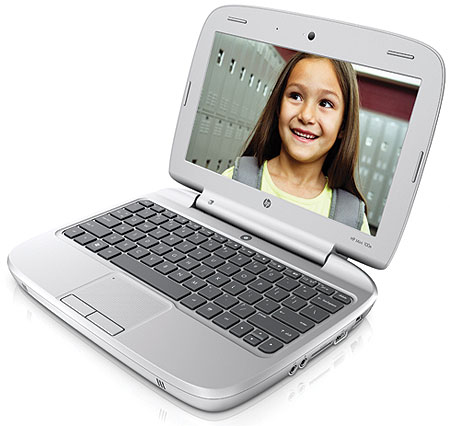 The HP Mini 100e Education Edition netbook
The 3.19-pound clamshell device is powered by a low-power Intel Atom N455 processor using the NM10 Express chipset. It comes with 1 GB of DDR3 memory and has three- and six-cell battery options.
Customers can select Windows XP Home, Windows 7 Starter or Suse Linux operating systems.
First Entry
While several other HP Mini netbook offerings have students among the customer base, the Mini 100e is HP's first effort at providing a notebook computer made specifically for the education market, Sarah Bussell, the company's senior manager of product marketing for business notebooks, told TechNewsWorld.
HP will join Dell and Intel, among others, in the educational market. Dell launched its Latitude 2100 series last year, and Intel has the low-cost Classmate PC solution. The One Laptop Per Child (OLPC) organization also has a machine it markets to developing countries, but that project is not commercial in nature.
Made for the Classroom
Among the features that HP says make the Mini 100e ideal for educational use are a spill-resistant keyboard, plastic construction with metal alloy hinges on steel pin axles and, in what is becoming common for classroom-bound PCs, an LED on the case that helps teachers tell when students are surfing the Internet.
The 100e also features an integrated handle and a customizable panel that makes it easy to customize the PC with logos or emblems.
It will come with learning software including Microsoft Math, Microsoft Reader, Live MovieMaker and Microsoft Learning Essentials.
It will also feature Office 2010 Starter, Evernote and PDF Complete. Microsoft Security Essentials will handle antivirus duties.
Nothing Special?
Despite HP's marketing efforts to the contrary, the Mini is a hobbled piece of hardware that isn't likely to become a highly sought-after tool for first world educators, says independent technology consultant and writer Christopher Dawson
"Dell differentiates their educational netbook with a hardware ecosystem, teacher resources, and custom disk imaging and management," Dawson said. "The Intel Classmate converts to a tablet and has a sizable software stack bundled with it. What does the HP have? Microsoft Math.
"Even developing countries at which this netbook is really directed would be better served by the OLPC XO or Classmate, both of which have great educational software," Dawson said.
The Mini 100e Education Edition will be available worldwide in July, HP said.
The laptop will cost no more than about US$300, according to the company, but Bussell declined to discuss low-end pricing.