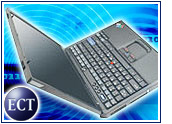 The rugged-computing industry — which seeks to make computers compatible with environments that are at odds with delicate electronics — is one of the fastest-growing segments of the mobile-computing marketplace. Surprisingly, research firm Venture Development estimates the rugged-computing market will reach US$6 billion in sales worldwide by 2005.
As wireless technology has saturated the computing marketplace over the past few years, business applications — specifically geared toward field work — have correspondingly flourished. Without rugged-computing technology, these field applications would be hamstrung.
It is in this context that IBM has announced a line of ThinkPad notebook computers, including new ThinkPad R50 and T41 models, that include automatic hard drive protection technology. Called the Active Protection System, the company said the technology is metaphorically similar to that used in automobiles to deploy airbags upon impact.
Help, I've Fallen
The IBM laptops use a microchip that detects system acceleration — like the kind produced during a fall — and then responds by parking the hard drive's read-write heads to avoid data loss. According to IBM, this rapid response can help prevent hard drive crashes that could occur as a result of some falls.
However, being rugged does not mean merely strengthening the outside of the computer's case or protecting the hard disk against damage in the event of a fall; it means protecting all of the components inside the system. And while the current IBM ThinkPads are not designed specifically as rugged-computing machines for extreme environments, the new hard drive technology is a definitive step in that direction.
True rugged mobile-computing devices are designed to resist vibration, dust, water, temperature extremes and repeated drops onto hard surfaces. This category of devices typically meets or exceeds MIL-STD 810F, a 539-page military standard for testing ruggedized compliance.
"Military standards for ruggedization have always been an attractive market for manufacturers," AMR Research analyst Louis Columbus told TechNewsWorld.
Ruggedization Tech
More and more, engineers, developers and designers are being asked to work from a remote site or customer location, and lugging around a workstation isn't their idea of a good time, industry analyst Rob Enderle told TechNewsWorld. "However, because these environments are often hostile and the data on the machines critical, increasingly we are seeing the use of hardened — ruggedized — products to address these problems," he said.
The potential cost of recovering lost data or lost work because computing equipment isn't running often easily outweighs the extra cost associated with ruggedization, said Enderle. In most cases, he noted, ruggedization is a combination of protecting the spinning media — the hard drive — from shock and protecting the rest of the computer from environmental changes like rain.
"New advances have to do with being able to work with multiple wireless technologies," he said, "and in being able to switch dynamically between network types, primarily because these folks are in motion much of the time."
Meeting the MIL-STD
"Generally speaking, rugged computing devices will become more commonplace," Jarad Carleton, Frost & Sullivan IT industry analyst, told TechNewsWorld. "The more you move a laptop, the more they're going to be prone to damage. That's the dirty secret of the laptop industry. Yes, they are mobile, but they can't withstand a lot of damage."
However, Carleton pointed out that consumers who want ruggedized PCs right now can buy hardened laptops from several companies. "I think we'll need to see the price point drop first, but a lot of corporate users are going to realize that it's cheaper to buy a ruggedized PC than to have to replace one that's been damaged," he said.
The new, select ThinkPad models that offer the hard-drive protection technology also come with IBM's embedded security subsystem, which is designed to provide a more secure wireless computing environment. IBM also has updated the ThinkPad X31 and G40 models with faster processors and integrated wireless technology.
Prices for the ThinkPad R50 start at $1,529, and prices for the ThinkPad T41 start at $1,649. Both models are available now.