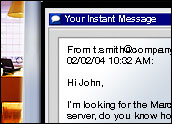 A national survey released today indicates that instant messaging (IM) has grown 19 percent since last year and is penetrating the United States market as deeply as e-mail — with many Americans sending as many, if not more, IMs than they do e-mails.
What's more, at-work and mobile messaging usage have gone mainstream, according to the third annual Instant Messaging Trends Survey from AOL.
'Deeply Entrenched'
Instant messaging (IM) is "now deeply entrenched in the U.S.," Krista Thomas, a spokeswoman for AOL — based in Dulles, Va. — told TechNewsWorld.
Multiple screen names and rampant "away messaging" are standard across all regions, sexes and ages, she added.
Top-line survey findings include the following:
Thirty-eight percent say they send as many or more IMs than e-mails, and the younger users are, the more likely they are to favor IM. Two-thirds of teens and young adults say they send more IMs than e-mails, up from 49 percent last year.
More than half of teens surveyed say their parents now issue guidelines and rules about instant messaging. Teen boys are more likely to have parental IM rules than are teen girls, and fully 65 percent of teens who have rules say they follow them.
One in three IM users send mobile IMs or text messages from their cell phones at least once a week. This is a dramatic increase over 2004, when just 19 percent said they do so, and 2003 when the figure was 10 percent.
At-work IM users now send IMs to communicate with colleagues, to get answers and make business decisions and even to interact with clients or customers. Twelve percent have used IM at work to avoid a difficult in-person conversation.
'Part of Life'
"Instant messaging is a part of everyday life, with more and more people using their IM service as a starting point for all communications, from sending mobile messages to friends on cell phones to placing VoIP-based phone calls," said Chamath Palihapitiya, vice president and general manager of AIM and ICQ for America Online. "Usage is spiking, and not just among teens. Parents, grandparents and professionals are all using instant messaging to stay in touch and enhance their day-to-day communications."
Close to 12 billion instant messages are being sent every day worldwide, according to IDC. ComScore Media Metrix reports that there are more than 300 million people across the globe — and more than 80 million Americans — who regularly use instant messaging as a quick and convenient communications tool.
According to IDC, more than 28 million business users worldwide use instant messaging to send nearly 1 billion messages each day at work. Meanwhile, the AOL Instant Messaging Trends survey revealed that more than three in four at-work IM users say that instant messaging has had a positive impact on their work lives.
One in four of at-work IMers say that instant messaging enables them to check in on their children during the workday, providing greater peace of mind.
Business Impact
Among those who use instant messaging for business purposes, 13 percent say they have their IM screen name printed on their business card, while six percent say they write it on the business cards they exchange. New Yorkers appear to be the most extensively involved in this trend, with 26 percent having their IM screen names printed on their business cards.
Further, one in three IM users say they also send SMS messages or mobile instant messages at least once a week from their cell phone. Nearly half of IM users aged 13-21 engage in text messaging and mobile instant messaging, while 42 percent do the same. Meanwhile, one-quarter of those aged 35 to 54 say they send messages from their mobile phones.