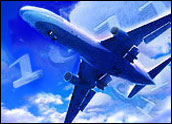 Intel has joined forces with Connexion by Boeing to help ensure that travelers almost always have access to the Internet.
Connexion, a business unit of the airplane maker, already has WiFi hotspots in place on 70 planes on Lufthansa, Scandinavian Airlines, Japan Airlines, ANA, Singapore Airlines and China Airlines. Austrian Airlines, Korean Air, El Al, Asiana and Etihad will soon add the service, the company said.
Centrino Compatible
In the announcement today, Intel said it has tested the compatibility of laptops using Intel Centrino mobile technology and stamped the high-speed, in-flight service with its Wireless Verification Program seal of approval.
"We all use time on planes to work," Roberta Wiggins, research fellow, Yankee Group, told TechNewsWorld about the usefulness of the service. "It's a good consolidated piece of time to get some work done. People would rather work on the plane and have the weekend free to be with their families."
Wiggins said another benefit of wireless on airplanes is that it's quieter than phone calls.
"At least you won't be disturbing fellow passengers," she said.
About 90 percent of laptops use Centrino technology, according to Wiggins, so the service will be accessible to most travelers.
Fee Per Flight
Connexion charges a flat fee of US$29.95 per flight to use its service for most international routes and $19.95 for flights shorter than six hours. The company also offers a pay-per-minute plan that costs $9.95 for 60 minutes and 25 cents for each minute over an hour. Passengers can connect to the network through a Connexion account or use the roaming feature of their wireless providers.
Wiggins said she thought the in-flight WiFi would be a success and a valuable way for airlines to differentiate at a time when they are looking for new sources of revenue. "It's revenue and as with WiFi hotspots all over, it's a way to attract customers," she said.
Both business and leisure travelers can take advantage of the Internet to notify hotels, transportation services and associates and friends about changes or delays in travel plans.
Intel and Connexion said they will also work together on marketing the service.