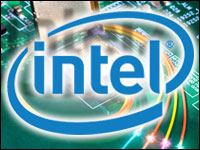 Intel has reported a major technological breakthrough in microprocessor development: the world's first 3D transistor. The Tri-Gate transistor will continue the steady delivery of computing products that are ever more powerful, ever cheaper and ever smaller, the company said.
Intel has also previewed a 22-nanometer node microprocessor code-named "Ivy Bridge," which will be the first high-volume chip to use Tri-Gate. A nanometer is one-billionth of a meter.
Reinventing the Transistor
What Intel has done is reinvent the transistor structure by using a a thin three-dimensional silicon fin that rises up vertically from the silicon substrate, unlike the two-dimensional planar transistor structure currently in use.
The current is controlled by gates on each of the three sides of the fin, rather than just one on top.
These gates are in part responsible for the expected power and performance advances with the new chip: They keep the current flowing as strongly as possible when on, and as little as possible when off.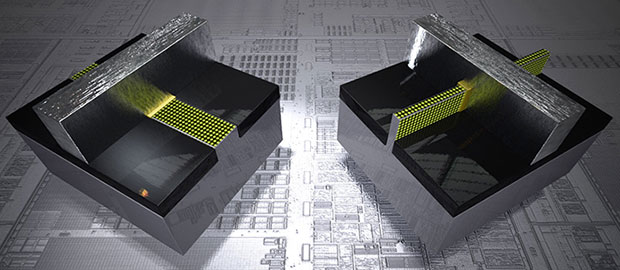 On the left side is the 32nm planar transistor in which the current (represented by the yellow dots) flows in a plane underneath the gate. On the right is the 22nm 3D Tri-Gate transistor with current flowing on 3 sides of a vertical fin.
Intel did not respond to TechNewsWorld's request to comment for this story.
Commercial Breakthrough
The company has come up with an important innovation, said Nathan Brookwood, an analyst with Insight 64.
Until now, the integrated circuit's transistors on the silicon wafer typically would lie flat.
"We have gotten to the point where the transistors are so small they are starting to have trouble conducting the current," Brookwood told TechNewsWorld.
What Intel has done is rotate the transistor — so instead of lying flat, it now stands up vertically, he explained. It is able to conduct the current more efficiently, allowing Intel to double the number of transistors on a chip.
This feat has earned Intel some bragging rights.
"This is another proof point of Intel's leadership in technology," Roger L. Kay, president of Endpoint Technologies Associates, told TechNewsWorld. "Their 3D transistors are a collaborative, robust architecture that will minimize leakage and allow for the easier switching between the on and off states of the transistor."
Perhaps more importantly, it will allow for much smaller features, he said.
Indeed, that seems to be the use case Intel has most in mind. The 22nm 3D Tri-Gate transistors provide up to a 37 percent performance increase at low voltage compared to 32nm planar transistors. They also consume less than half the power at the same performance level as 2-D planar transistors on 32nm chips.
That is the beauty of what Intel has developed, Charles King, principal of Pund-IT, told TechNewsWorld. In fact, the idea of a 3D transistor has been around since 2003 — certainly, Intel has discussed it before.
"What they have done, though," said King, "is develop a process by which they can create commercial products — and that is what the big deal is."
The chips will make Intel competitive in power-sensitive applications and devices such as smartphones and other handhelds, he noted — an area Intel has been trying, with limited success, to penetrate.
Saving Moore?
While crediting Intel with achieving a significant development, Brookwood suggested that Moore's Law wasn't in immediate danger of expiring.
"Yes, Intel is way ahead of any other semiconductor manufacturers in terms of being able to use this technology, but that doesn't mean other chipmakers will be shut out of the market or won't deliver similar advances," he said.
"They might not be as far along, but they can come close. There are a lot of ways to skin a cat in terms of power and performance," said Brookwood. "So the other guys — like IBM and Global Foundries — will also be offering competitive products over the next few years and three, four years from now the rest of the industry will have figured out how to make 3D transistors — if they want to."