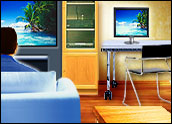 Intel and Philips are working together to build and market home entertainment centers that will run on Intel processors, the chipmaker said at IFA, the International Consumer Electronics Fair, in Berlin.
Both personal computer makers and consumer electronics manufacturers have been touting centralized home media centers, but the question is whether consumers really want the devices. The Philips Showline Media Center will contain a card that creates two tuners, so TV viewers can watch two shows or watch one and record another. It also has a 250 gigabyte hard drive for storing photos and music and a recorder for DVDs or CDs.
The One or the Many?
"There is a big debate in the industry on centralized vs. different boxes around the house," Ted Schadler, vice president, Devices, Media and Marketing, Forrester Research, told TechNewsWorld. "I fall on the side of a lot of different boxes."
Intel is betting that it can create a multi-function chip that allows consumers to link all their media needs through one box at a price that makes buying the box attractive, but Schadler questioned whether that's what consumers want.
"The data shows very clearly that consumers don't look for one-size-fits-all solutions, they just look for what works," he said. "There's a misbegotten belief that people want to consume all this media from one spot."
He also questioned the desire of consumers to view their photographs in their living room likening it to watching a family member's vacation slide show.
Not Everyone Needs E-Mail
But he did say that an entertainment-centered PC is an attractive option for some computer users.
"The idea that there are consumers who don't need a PC for e-mail, [but] they [do] need a PC for entertainment is real. People are doing that. Those applications run well on media center PCs," Schadler said adding that the market is there, especially if Intel could get the price of the chips down.
Intel would like to get a piece of the $70 billion a year market for consumer electronics chips.
"This is a continuation of what Intel has been doing, trying to diversify out of its base," Brian O'Rourke, senior analyst, In-Stat told TechNewsWorld. "It has already started manufacturing chips for mobile phone handsets. For Philips, it never hurts to team up with Intel on anything."