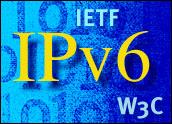 Version six of Internet Protocol — or IPv6 — was approved as a standard many years ago, but the high cost of rolling it out has been too severe for the slow economic recovery. After all, implementing the required networking technologies associated with rolling out the protocol en masse requires replacing routers and other equipment geared to the older standard, IPv4.
Now, that is starting to change, dramatically.
"Major forces are beginning to push for the deployment of IPv6-capable networks, most notably the federal government and its Global Information Grid project," John Roese, chief technology officer of developer Enterasys, told TechNewsWorld. "The governments of Japan and the European Union have also mandated that, in the near future, network devices must support IPv6."
Roese notes that because the U.S. government is the world's largest IT customer, developers now are accelerating their deployment of IPv6-related networking technologies to target that market.
"The time is now to accelerate IPv6 and make it a standard we support throughout our product line," says Roese.
Internet History, Redux
In many ways, this story is similar to one that unfolded more than 30 years ago. Back then, the Pentagon pushed for development of a secure network that could be used for communication in the event of a nuclear holocaust.
The Defense Advanced Research Projects Agency Network — or DARPAET — was not supposed to be a commercial network. But by the 1980s, with university professors, researchers and students employing it, the Net began to take shape. At that time, it was structured by standards-setting groups to accommodate just over 4 billion potential Internet addresses.
In light of the Net's dramatic growth in the 1990s, however, it turned out that 4 billion simply was not enough capacity.
So developers, academics and industry groups — like the Internet Society and the IEEE Computer Society — developed a technology standards plan that would increase the Net's capacity for traffic and make it more secure.
Although the economic recession — resulting from the bursting of the Internet-technology bubble — has dampened things a bit, the economy seems to be back on track, with government IT spending across the globe set to focus on the IPv6 standard.
Evolving from Data
According to IPv4, the current standard, IP addresses follow a 32-bit pattern of 255.255.255.255. In contrast, IPv6 addresses follow a 64-bit pattern of 1023.1023.1023.1023, which can provide for an exponentially greater number of IP addresses than IPv4.
However, IPv6 is much more than IPv4 with additional address capacity. It is a ground-up reconfiguration of what will be required from IP as a protocol in the future. IPv6 starts to implement the modifications that will be needed to cope with the changing traffic that will start to appear on IP networks globally.
In the future, there will be much greater demand for real-time transactions as the Internet and intranets evolve from old-style data networks into complex transmission systems carrying a vast wealth of data, entertainment and other services. IPv6 is designed to accommodate this kind of global demand.
Both software and hardware developers — anticipating the direction of the Internet — are offering technologies based on IPv6 to customers interested in employing the technology now. For example, Check Point Software Technologies has introduced a new IPv6-capable firewall to help customers migrate securely to the new protocol.
Investment banks, meanwhile, are once again getting excited about potential spending — and growth — in the networking market. "New architectures mean new spending," said Goldman Sachs equity analyst Sarah Friar. "Our sense is that many of these opportunities will have an impact in 2004 as planning gives way to implementation."
Several technology vendors could benefit from a mass rollout of IPv6 technologies, including Cisco, IBM and Microsoft, to name a few.
Not Foolproof
Some vendors, however, are concerned there is a misconception that a new IPv6-based Internet would be hacker-proof. IPv4 is intrinsically vulnerable to all manner of mischief at the IP level — the level at which data packets move from one computer to another. While IPv6 adds several layers of built-in security, it cannot deter all manner of attacks.
"From our perspective, IPv6 will have little impact on improving the general security of the Internet," said Kevin Nelson, vice president of business development and marketing at ThreatFocus, an IT consulting company.
"IPv6, once adopted, will stop certain classes of attacks by making it difficult or impossible to spoof, or masquerade, as a different computer," he said. "However, IPv6 has no ability to stop, or even slow, the widespread exploitation of most known network vulnerabilities, which usually exploit security weaknesses above the IP layer."
Even so, if IPv6 becomes ubiquitous, there will be no need for IPSec clients — the most common kind of IP-related security currently on the market. As a result, virtual private network (VPN) gateways no longer will be needed between corporate networks and the Internet because IPv6 machines will be able to tunnel directly to each other.
Asia First
Some technologists note that demand for new IPv6 addresses is heaviest in Asia, a region that has struggled with a minimal number of allocated IPv4 addresses. For example, U.S.-based Level 3 Communications has three Class A domains, which is equivalent to about 48 million unique IP addresses. This number is almost more than all the IPv4 addresses allocated to Asia.
Many firms in Asia are adopting IPv6 technology because they need IP addresses and have no other choice. Japan has a government-imposed deadline to upgrade its IT sectors to run on IPv6 by 2005, and the Korean government has an initiative called "u-KOREAv6" that is designed to serve as a testbed for IPv6 networks.
Korea first mapped out a roadmap for IPv6 in 2001 and envisioned that the new standard would be fully deployed by 2011. Since then, Korean government officials have said the new standard will become widely available earlier than projected because private companies like Samsung Electronics will help speed adoption of IPv6. Samsung has said it will apply IPv6 to wireless LAN and mobile telecom services as early as 2004.
In China, concern over the limited addresses available under the current IPv4 scheme is more serious. This year, China counted some 60 million Internet users and more than 200 million mobile phone users, but the country has fewer than 30 million IPv4 addresses available.
Droves to Adopt
Many believe the United States will have plenty of IP addresses for some time to come because there are many workarounds to extend the life of IPv4 address use. Many of these workarounds — such as mapping multiple domains to single IP addresses — have become common IT practices.
However, the advantages of using IPv6 are becoming increasingly clear, particularly as new IPv6-oriented hardware and software technologies come to market. Many analysts believe it could be simply a matter of time before U.S.-based companies start adopting the protocol in droves.