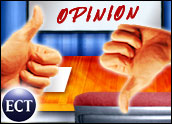 A lot of major technology industry players — from Microsoft to Alcatel — are investing heavily in Internet Protocol Television (IPTV), with the belief that the medium is ready to truly emerge as a competitor to cable. A new study, out this week, by a think tank in Washington, D.C., adds to the atmosphere of hype, claiming that IPTV is going to be a "multi-billion dollar industry" in the "very near term."
I'm not so sure, but I am willing to listen. You should be too. Don't get too enervated by the scuttlebutt though. Back in the mid-1990s, supposed geniuses like Oracle founder Larry Ellison were telling us that the PC was passe and the network computer — basically a cheap box of processors, linked to the Internet — was a "multi-billion dollar" opportunity. That never happened.
Today, you can tell the meisters of hype behind the IPTV trend are hedging their bets, at least a bit. They're saying that the industry is "potentially," a multi-billion dollar industry, which is a bit like saying the average high school graduate is "potentially" the world's next billionaire. I suppose that's true — but it is a pretty darned optimistic statement.
All-Encompassing Term
A study by a Washington, D.C.-based think tank called the New Millennium Research Council (NMRC), rightly notes that IPTV is an "all-encompassing" term that pertains to many different forms of video programming. That's primarily because the underlying technologies are Internet-based. IPTV can be transmitted over broadband networks and be viewed by consumers through a number of different devices, essentially allowing consumers to customize their video programming experience. IPTV also empowers organizations of all types.
The report focused on just two companies that are pioneering IPTV — Interactive Television Networks, (ITVN) of Irvine, Calif., and Communication Technologies (COMTek) of Chantilly, Va.
The report, headlined, "The State of IPTV 2006: The Advent of Personalized Programming," has a number of pertinent findings.
For example, because of the expansion of broadband access and the growth of computing and video production equipment, IPTV is realizing its potential as a viable programming platform that can compete with cable, satellite and other traditional video mediums. IPTV is also seen by providers and industry watchers as a gateway for new content providers.
IPTV is not simply offering traditional television programming through another device or connection. "The low costs of creating content allows just about anyone to produce a 'television show.' IPTV providers are already offering content from sports leagues to home cooking shows and more," said the report.
Party Time, Excellent
The report authors think this is positive. I'm not so keen on the idea, however. Have you ever seen public access TV? That was a craze during the late 1980s and early 1990s that culminated in the film "Wayne's World," which detailed the lame lives of Wayne and Garth, two thirtysomething adolescents who produced a public access show for their local cable TV outlet, and, if I recall correctly, incessantly fantasized about Heather Locklear or some other starlet.
We don't need more of this kind of programming. Decades ago, Marshall McLuhan, the first digital age guru, decried TV as a vast wasteland. Public access TV, by comparision, is a nuclear waste dump. Some IPTV content may be worse — something post-apocalyptic — too frightening to describe in words.
To this pending reality, the report authors seem blithely unaware. "This new programming vehicle, allowing organizations and individuals to transmit their messages to an audience of their choice, could be the 'killer application' that experts agree is needed to catapult IPTV to equal footing with traditional television," they say.
That may be true — in part. There are some legitimate producers who are distributing content over IPTV right now, but are there a lot of companies making "billions" of dollars on this? Not at all.
Not many consumers even know what IPTV is right now — which, it seems, would be an obstacle to selling it. This is confirmed by the evidence.
"In our recent study of 1,093 U.S. adults, conducted from December 2 to 8, 2005, 18 percent said they would sign up and try it immediately if it was available for their PC and TV set-top box," said Milton Ellis, vice president and senior consultant at the technology research practice of Harris Interactive.
That's not a lot of votes of confidence for IPTV by the masses. Even the dreary John Kerry got higher vote totals when he ran for president in 2004. Eighteen percent is a wipeout — and he still lost by a wide margin.
I think there's a right way to think about IPTV, however. That is — that it does have potential. Even if it is not a billion-dollar technology just yet. A research scientist at the computer science department of The University of Massachusetts, Amherst, put it plainly when he said, "IPTV is an interesting, emerging video platform."
Interesting and emerging, but not lucrative — yet.
---
Gene Koprowski
is a Lilly Endowment Award-winning journalist, TechNewsWorld contributor and nationally syndicated columnist.
---