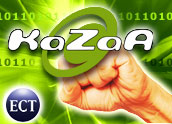 As an Australian court considers whether Kazaa's parentcompany should be forced to pay damages for the file sharing that goes onover its peer-to-peer (P2P) network, questions persist about the effectiveness of themusic industry's enforcement efforts.
Today, the Federal Court in Sydney heard from Leon Sterling, chairman ofSoftware Innovation and Engineering for the Department of Computer Scienceand Software Engineering in the University of Melbourne.
He said thatSharman Networks should be able to track who is using its Kazaa software and what they are doing.
Details Unclear
In other words, Sharman should be able to stoppiracy or at least report it to the music industry.
Sterling appeared as a witness for the music industry. On cross examination, he acknowledged that he didn't know how long it would take to develop such technology or how expensive it would be.
Last week, as the trial opened, Sharman Networks attorneyAnthony Meagher said there was no technology sophisticated enough todistinguish between licensed and unlicensed music on the network.
Buyers and Sharers
Universal Music Australia, EMI, Sony/BMG, Warner, Festival Mushroom and 25other recording companies are suing Sharman Networks in civil court claimingthat it created the software knowing it would be used to pirate music andeven encouraged that use. The court said that it would not shut the servicedown, but Sharman could be forced to pay millions in damages.
Regardless, the question remains as to whether fighting music listeners andindividual P2P networks is a good approach?
According to John Barrett, director of research for Parks Associates, 15percent of people who never use peer-to-peer networks buy music, while 40percent of people who use such networks also buy music.
This suggests that people who areinterested enough to seek out music to share are also interested enough tobuy it. "It's one and the same group," Barrett told TechNewsWorld.
Never Stop
"What I think is happening is that they're just pushing it fartherunderground," he said the music industry's efforts to squelch the P2Pnetworks.
"They're never going to stop piracy. It's been around forever. I think theyknow that. Even with legal services and all the copyright protection, it'sridiculously easy to get around. They're kidding themselves and hoping noone will notice."
Bigger Issues
The underlying problem for the music industry has to do with a lot more thanP2P networks. Barrett said research shows that 60 percent of people who saythey go to a P2P network monthly also say they don't download anything.
Finding what you're looking for and getting a high-quality copy of it aredifficult and can be time-consuming, he said.
"The problem is that [the music industry's] revenue model is being completely undermined," hesaid. In the past, music companies have sold the same songs and albums overand over again by releasing them on movie soundtracks, as greatest hitscollections and on new media with better sound quality.
"Just by going digital completely undermines that," Barrett said. "You'renever going to upgrade your entire collection, never going to buy a greatesthits album, you can burn your own greatest hits CD."