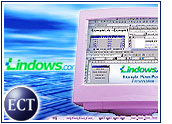 Lindows.com has launched what the company is calling a "new class" of computer, insisting it is not a mere thin client or Internet appliance. The new Lindows WebStation is an Internet-ready, full-fledged computer designed specifically to be a family's second PC, a business terminal or a public-access kiosk.
Unlike many single-purpose thin clients — which also typically do not have hard drives — WebStations offer several general-purpose applications out of the box, including Web browsing software, instant messaging capabilities, audio/video playback, Web-based e-mail and a Microsoft-compatible office suite to make it possible to open, edit and e-mail Excel, Word and PowerPoint documents without any additional software.
"What is interesting is that the WebStation is basically a diskless workstation that uses a CD instead of a remote server for the OS image and applications," Rob Enderle, a research fellow at Forrester, told TechNewsWorld.
Full-Blown Computer
In 2001, Lindows.com was started by Michael Robertson, founder and former CEO of MP3.com. The company has made inroads into the consumer marketplace by partnering with retailers like TigerDirect and Wal-Mart to sell LindowsOS-based computers.
Recently, the company released LindowsCD, a LindowsOS distribution that gives Windows users the ability to boot the LindowsOS directly from their CD drives without having to install the OS on their hard drives. The LindowsCD costs US$29.95.
"There's enormous interest in Linux, but computer users don't always have a spare computer to try it out," Lindows.com CEO Robertson said. "Now, with LindowsCD, any user can insert the disc, restart their computer, and they're running Linux."
The WebStation — essentially a computer without a hard drive — operates according to the same bootable-CD principle as the LindowsCD. And it could bring a greater deal more exposure to Linux on the desktop because it completely eliminates any difficulties associated with installing Linux on a hard drive.
"The WebStation is entirely consistent with the Linux approach of driving for a very low cost of ownership," Louis Columbus, senior research analyst at AMR Research, told TechNewsWorld. "This type of device can only serve to drive up the market share on the desktop, clearly the toughest of areas to gain leadership."
Stability and Security
The WebStation includes many of the features found in the LindowsOS, including hardware detection, plug-and-play capabilities and multimedia support for MP3, RealAudio, RealVideo, QuickTime, MS Media, Java and Flash, among other standards.
The company points out that — despite these capabilities — the WebStation is "virtually indestructible" because it runs off of an internal CD, which means system settings are not subject to long-term damage when they are changed. Simply restarting the WebStation instantly restores it to its original settings.
However, while there are definite advantages to the bootable-CD approach, there are also potential drawbacks. "Saving things could be a bit iffy — floppy-drive size only — and, since this is Lindows, accessories could be problematic," said Enderle. "However, as far as price, virus protection and base features, it really is a very interesting offering."
Passwords and usernames are not required when using the Lindows WebStation, which, according to the company, makes it well suited for public-access locations. Some models, designed with the public sector in mind, make the CD drive inaccessible to users, ensuring the CD-powered WebStation will remain up and running.
Low Overhead, Low Cost
After the WebStation is plugged in to a power outlet, a broadband connection and a monitor, it configures itself to surf the Internet, check e-mail and work on documents.
"This thing costs less than some of the motherboards I picked up last year, and particularly for a very young child or an older adult, it might simply be all they need," said Enderle. "It might also play well in third-world countries where cost is the critical driving factor."
The Lindows WebStation can be purchased now at TigerDirect and Idotpc.com for $169. The version available at TigerDirect includes a 1.1-GHz AMD processor, 256 MB of PC2100 DDR memory, a 10/100 Ethernet card and a floppy disk drive. A monitor is sold separately.
"The price-point alone with an MS-compatible office suite included will be attractive for many companies that simply need a workstation and not a complete PC," said AMR Research's Columbus.
The bottom line, according to Columbus, is that the WebStation furthers the Linux vision. "The result is a device that is perfect for homes and small companies that need [Microsoft Office compatibility] at a reasonable cost."
The Consumer Linux
LindowsOS — the operating system at the heart of the WebStation — was designed to be an easy-to-use, consumer-oriented version of Linux.
LindowsOS gives users access to hundreds of applications via the company's Click-N-Run Warehouse. All applications in the Click-N-Run Warehouse are licensed on a lifetime basis and can be downloaded, installed and run with just one mouse click through LindowsOS. However, the Click-N-Run Warehouse is not compatible with the new WebStation.
"You would have to get a new CD to upgrade the [WebStation's] software," said Enderle. However, he noted, the Click-N-Run Warehouse is "a very interesting strategy for Lindows.com's more expensive Wintergreen product, which does have a hard drive."
Enderle suggested that the market is moving to subscription software, "albeit very slowly." The real question, he told TechNewsWorld, is whether a market that feels software should be free will pay for services.