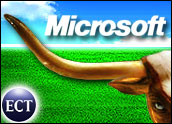 Microsoft will release the beta of its long-talked-about Longhorn Server in August, at about the same time as it releases the beta for the Longhorn desktop OS, Senior Vice President Bob Muglia said in an online chat last week.
Muglia also suggested that the company may be working on a home version of the 64-bit server system, although one analyst wasn't convinced that it would be any different from what's already been announced.
"I wouldn't assume that this is some special server version for the home," Gordon Haff, senior analyst, Illuminata, told TechNewsWorld. "The 'Longhorn' term is often used fairly generically. Presumably there will be a desktop version of Longhorm and presumably there will a desktop version that's specifically targeted for home desktop use."
Home Server Unnecessary
"Longhorn" will also be the next generation of the Window's XP operating system, but one analyst said there's little reason for a home user to need a Longhorn server OS.
"Any properly configured PC can run the server version of the operating system, but there's really no call for it beyond micro-businesses run out of a residence that must serve up applications to customers or partners," Simon Yates, senior analyst, Forrester Research, told TechNewsWorld.
Microsoft said Longhorn Server for the home would be designed to help users manage the increasing amounts of audio and video content they are storing on their PCs. The OS is supposed to be more secure, more reliable and offer better data organization; Microsoft is also working on a new underlying file system, Windows File System (WinFS).
"WinFS uses a relational query engine to locate and associate data and files on the system. It allows the user to pose questions to locate information, rather than asking the system to search folders individually," Yates said.
Missing Function
But he added that the initial release of Longhorn won't contain WinFS and is unlikely to be a giant step forward.
"With features like WinFS removed from the initial release of Longhorn, the platform is more of an evolution than a revolution from the enterprise perspective," he said.
Because of this, Haff said that Longhorn is not that eagerly awaited. "As things stand, just about no one outside of Microsoft is anxiously champing at the bit waiting on Longhorn. Maybe as the beta program expands and people start to see 'cool' or useful stuff, that will change. But not now," he said.
But Yates said a Forrester survey of 150 companies found that 37 percent of SMBs and 21 percent of enterprises would deploy Longhorn on the desktop as soon as it is released. However, 13 percent of SMBs and 17 percent of enterprises said they will not deploy Longhorn at all. Forrester expects that number to grow as firms ride out Windows XP support, which has been extended to 2011.