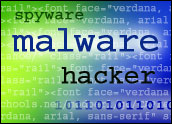 Keystroke loggers and spyware developers may soon be silenced, as Congress is debating a bill that would outlaw the intrusive software and declare it akin to trespassing on private property.
"It's my computer. It's my private property," said Sen. Conrad Burns (R-Montana), during a public hearing in the U.S. Senate earlier this week, talking about his bill to ban spyware. "I bought it and paid for it for my use only. Not some leech."
Spyware is generated by a number of nefarious sources.
Generally, purveyors of faux shareware, offered over the Internet, will include a spy program with their download as the undisclosed purchase price.
Other spyware spreads like a computer virus, secretly, through banners, pop-ups and other means that help install malware on a user's PC.
Instant Installation
The installation often takes place instantly if the user's browser security features are left at the default setting.
The software may monitor your keystrokes to see what Web pages you visit, he added. Or it may be even more pernicious, such as a Trojan that can link you to whatever Web site its programmers command.
The plague of spyware is getting so bad that it might rival spam if it does not abate soon.
"We monitor these trends for our customers, and we've been telling them that this is something they need to worry about," Bruce Hughes, director of malicious code research at TruSecure's ICSA Labs, a Herndon, Virginia-based computer security consultancy, told TechNewsWorld. "The number of complaints is increasing."
Many Are Annoyed
Sen. Burns isn't the only one burning up about the spyware problem. Sens. Barbara Boxer (D-California) and Ron Wyden (D-Oregon) also are backing the Spyblock Act. Like so many pieces of legislation, the Spyblock acronym stands for an almost bizarre title — Software Principles Yielding Better Levels of Consumer Knowledge — apparently written by young Capitol Hill lawyers with questionable literary talent.
The primary provision of the bill would prohibit spyware developers from installing their software on a PC without the owner's consent and also would mandate that deinstallation software be made easily available.
Spyware and adware developers also would be forbidden to share any information gathered on individuals' PCs with other marketers without the consent of the user.
The goal of the legislation is to help the Internet continue to grow as a communications medium for home PC users.
Fear of Declining Computer Use
"If people think they are being spied on, they are going to use that computer a lot less," said Senator Burns during the hearing.
There is a risk, witnesses at the hearing testified, that such a broad-brush approach to prohibiting spyware could inhibit the growth of legitimate, contextual advertising agencies on the Net.
Witnesses at the hearing also raised the concern that, in the future, browser developers and other legitimate businesses might sell spyware and adware services to their customers as another revenue source, and, if prohibited from such activities by law, would see a major potential revenue stream dehydrated.
Lastly, witnesses claimed a ban on spyware could harm the free e-mail business that relies on adverts for revenue.
But some were not persuaded. "Certain issues are no-brainers," Sen. Boxer said during the hearing. Spyware is "going to drive people away from their computers."