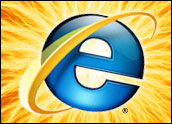 The newest version of Microsoft's Internet Explorer will feature full hardware acceleration and a new Javascript engine that engages multiple processor cores for faster rendering, the company has announced. The new version aso reverses the software giant's reluctance to adapt to HTML 5.
The company released a developer preview of Internet Explorer 9 at the MIX10 developer conference in Las Vegas on Tuesday.
Rough Draft
The preview is not a fully functioning browser, lacking crucial tidbits such as an address bar, for instance.
It's designed to give developers a feel for the core capabilities of what will eventually be released.
Microsoft isn't saying when it will come out. In a statement Wednesday, the company said it expects to release new preview versions every eight weeks until the release goes to beta, but it did not say when that might occur.
The new version will feature full hardware acceleration of graphics and text, support for HTML 5, CSS3 and a new Javascript engine that takes advantage of multicore processors.
The advances are meant to reduce limitations on Web design and development imposed by current implementations, Microsoft said. Consequently, the new browser will not work on Windows XP.
Early Praise
The advances are being well received by developers, Forrester analyst Sheri McLeish told TechNewsWorld.
"They're looking to regain a leadership role here and to really dazzle developers by really showing their commitment to HTML 5 and its potential," she said.
By moving to hardware acceleration, IE9 will enable faster rendering of animations and video, allowing developers to create beefier Web sites that software-based rendering schemes just couldn't handle, she noted.
Why It's Important
Creating a great next version of Explorer is critical for Microsoft as it attempts to build on the early success of Windows 7.
In all its incarnations, Explorer is still the most widely used browser, with a 61.6 percent market share in February, according to Net Applications. That's down from a recent peak of about 68 percent in May 2009, shortly after the current version was released. In that time, the fastest-growing browser has been Google Chrome, which now has about 5.6 percent of the market, according to Net Applications.
Maintaining or extending market share is important to Microsoft and Google, particularly, because it allows them to cross-promote other products, such as Bing for Microsoft or productivity apps for Google, McLeish said.
She said she does not anticipate the lack of XP support to have much of a detrimental effect on IE9 adoption, or Microsoft's market share.
Many enterprise customers running XP are expected to upgrade to Windows 7 as Microsoft phases out support for the older operating system, helping spur adoption of the new browser while simultaneously helping kill off IE6, which both Microsoft and many in the developer community would like to see disappear.