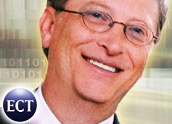 Bill Gates has taken another jab at Linux in an e-mail to customers publishedon Microsoft's Web site Thursday in which he sings the praises of software interoperability and hiscompany's ability to provide it.
"Open source is a methodology for licensing and/or developing software –that may or may not be interoperable. Additionally, the open sourcedevelopment approach encourages the creation of many permutations of thesame type of software application, which could add implementation andtesting overhead to interoperability efforts," Gates said in the letter.
Third-Party Interoperability
Despite the pokes at Linux, the crux of the letter was Microsoft's new commitment to making itssoftware work, not just with its own products, but with other vendors'products. The company had the impetus to make the move.
"U.S. and European courts have indicated [interoperability is] something Microsoft will haveto do," said analyst and TechNewsWorld columnist Rob Enderle.
"They had the choice offighting or getting behind it. This is probably where they should have beenall along because this is the sustainable advantage that they've had."
XML-Based
Gates said the company's strategy will focus on next-generation software andWeb services based on XML. With Microsoft's huge developer network behindMicrosoft's interoperability designs, the company is likely to be able tocontinue to dictate default standards, even for third-party software.
The XML products the company is working on will work much more smoothlytogether, Gates said.
"Microsoft has been working with the industry to advance a new generation ofsoftware that is interoperable by design, reducing the need for customdevelopment and cumbersome testing and certification," he said.
Microsoft software is already interoperable with hardware from IBM, amongothers.
It works with Mac OS's, as well as with versions of Unix, Linux, NetWareand AppleTalk networks, the letter pointed out.
Linux Charges
Enderle said he believes thatGates is speaking the truth about Linux and interoperability.
"Linux benefits from a halo," he said. "It's trendy to talk about goodthings about Linux. It's trendy to talk about the bad things aboutMicrosoft. There's so much you don't know about Linux, it makes it lookbetter."
The inherently more democratic open-source process is also inherently moremessy, Enderle explained. More messy means it can be more difficult toachieve interoperability.