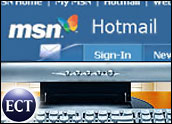 Microsoft today upped the ante on Web-based consumer services, announcingMicrosoft Office Outlook Live, which synchronizes Outlook and Hotmailcontent.
The service will cost US$59.95 a year but is being offered through April 19for $44.95. For that price, consumers get the downloadable Outlook 2003 for Subscription Services, 2 GBof Hotmail or MSN Mail storage and the ability to manage multiple e-mailaccounts and view schedules, contacts and to-do lists.
Consumers Win
"Microsoft, AOL, Google and Yahoo are in an incredible war of attrition that'sbenefiting consumers," according to Peter O'Kelly, senior analyst at the Burton Group. "The biggest advantage of Outlook Live is that Outlook is theworld's most widely deployed e-mail client. Outlook is immediatelyintuitive."
But O'Kelly told TechNewsWorld that consumers should not ignore the e-mail, storage andother consumer services offered by Microsoft's competitors, adding that thetrend is toward consumer-oriented offerings advancing more rapidly thanthose for enterprises.
"Microsoft and its competitors are working aggressively to simplify thisstuff so it is both useful and acceptable," he said.
Making Management Easier
O'Kelly said the service could make managing ever-growing amounts ofcomputerized information and communication easier.
"With Web-base storage, everything is backed up. When you have a hand-heldwireless device and two PCs, people struggle to get things synchronized.With mail, whichever PC downloads it first, it's gone from the other.Consumers can use this server as common ground. They can segue into groupscheduling and calendaring. They can create a family calendar, forinstance."
Changes Appear Everywhere
When a change is made through Outlook Live on any device, it isautomatically downloaded on to other devices using the service once loggedon.
O'Kelly cautioned that, as with any other Web-based application, consumerswill have to be aware of privacy and security issues. He said "inadvertentcomplacency" could put sensitive data at risk. In other words, as it becomeseasier to e-mail and manage information from anywhere, consumers get morecomfortable with those processes and become more likely to, for instance,e-mail sensitive personal or business information from a public wirelesssite.
Outlook Live is available in the United States, Canada and the UnitedKingdom. It requires Windows 2000 with Service Pack 3 or Windows XP.