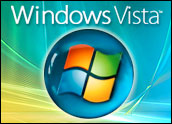 Microsoft is set to begin consumer sales of its new Vista operating system at 12:01 a.m. Tuesday, and the software giant is putting considerable marketing muscle behind the long-awaited launch.
Chairman Bill Gates and CEO Steve Ballmer are expected to kick off U.S. sales of the Windows OS just after midnight on the East Coast, and retailers Comp USA and Best Buy will be keeping some stores open late, a stunt usually reserved for video game console launches.
Significant Release
All the hoopla signals just how important Vista is likely to be to Microsoft's overall bottom line. Vista is the most significant operating system since Windows 95 was released more than 11 years ago, the company said. The software giant is also calling Vista its most secure operating system to date.
It is the first major upgrade to the computer operating system since Microsoft released Windows XP in October 2001. Microsoft has invested US$6 billion and written over 50 million lines of code to develop the product.
The new OS will not be alone on the shelves, as Redmond will also roll out new versions of its Office software suite and Exchange e-mail server software.
Visible Improvements
The improvements to the operating system are impressive, said Laura DiDio, an analyst with the Yankee Group, and will likely appeal to a wide spectrum of early adopters — from gamers to retirees to small businesses looking to ramp up performance capabilities.
"Microsoft has made some really solid improvements and enhancements in the look and feel, as well as the performance, reliability, and scalability and connectivity," DiDio told TechNewsWorld.
However, the operating system is more evolutionary than revolutionary, said DiDio, who has been testing the beta versions of Vista as they have rolled out.
"The whole environment has evolved substantially from a decade ago," she pointed out, with improvements such as a new interface, faster search engine and greatly improved security functions.
One such improvement is a technology called "BitLocker," which encrypts a computer's hard drive and protects data and information if a computer gets stolen or lost. Vista comes with Windows Defender to protect against spyware and other unwanted software.
Where the Money Is
Windows is, by far, Microsoft's most profitable product, accounting for 30 percent of the company's $44 billion in sales and 60 percent of its operating profit. It has provided a steady stream of cash flow, permitting Microsoft to venture into new areas like the development of digital music players and game machines, according to Didio.
More than 95 percent of the world's computers already run some sort of Windows operating system, according to Gartner Research.
This year, 72.5 percent of new computers purchased by consumers will come preloaded with a version of Windows Vista, the firm said.
Delays Are Over
Although Vista went on sale to businesses at the end of November and had originally been scheduled to arrive for general release on new PCs in time for last year's holiday season, Microsoft was forced to push back the debut. The company said last March that it couldn't meet the schedule required by some PC manufacturers and others in the industry.
Business customers with either an enterprise license or a software assurance contract got the first look at the final version of Vista to allow them to test the new software before rolling it out to workstations around their networks.
One-fourth of larger companies — those with 1,000 or more employees — will deploy Vista within the first year of its release, according to a study by Forrester Research, and another one-fourth are expected to do the same within two years of the release.
Vista will sell for $200 to $400 for new customers, and $100 to $260 for users who want to upgrade from Windows XP.