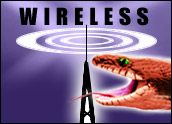 In IBM's Global Business Security Index Report for 2004, the company warnsthat malware and spam attacks on mobile devices such as smartphones andwireless-enabled PDAs are on the rise.
As Big Blue joins a growing list of high-tech companies and researchers warning of the increasingdanger of mobile phone spam and viruses, one analyst said the threat shouldcome as no surprise to the industry.
"The whole industry has been notoriously lazy. Their whole attitude has been'viruses are for PCs,'" Brian Pellegrini, wireless analyst at ABI Research,told TechNewsWorld. "At this point people are starting to notice because thepublic is starting to notice."
Texting Troubles
The IBM report warned that viruses and worms that attack mobile devices, wireless networks and embedded computers will become "epidemic" in 2005.
The majority of mobile phone spam comes in the form of text messages. Thishas become far more easy to accomplish with the rise of textmessaging from Web sites.
A study released yesterday by the University of St. Gallen in Switzerlandand Intrado, a vendor of emergency communications services, found that eight of10 mobile phone users reported receiving some type of spam.
Although the problem is more severe in Asia and Europe, where there are manymore mobile phone subscribers and laws against phone spam are either weakor non-existent, the problem is likely to grow in the United States as well.
"It will become a bigger and bigger issue until someone deals with it,"Pellegrini said.
Speedier Spam
The increase in wireless data transfer and speedier transfer technology,which treats voice transmission as data, has made spreading viruses easier.The convergence of phones and PDAs into "smartphones," which are basicallymini-computers complete with office applications, also gives virus writersgreater reach.
That's because instead of having phones that run on amultitude of closed operating systems unique to a vendor, the smartphonesare likely to run on a more standardized operating system, such as WindowsMobile or Symbian, and viruses must be written to target a particular operating systemor application.
Bluetooth Gaps
Yet another inroad for malware is the fact that "Bluetooth is notoriouslyhorrendous for security problems," Pellegrini said.
The technology, whichallows wireless devices to talk to each other, also allows viruses to spreadthrough the air by searching for any other device in the area that is opento discovering Bluetooth hot spots and communicating with it.
But the problem is not without solutions.
"Companies can start doing what ISPs have done," he said. "They can startscanning transmissions and figure out what the patterns are so they canblock them. This is something that everybody is responsible for. Companies should worktogether to set up an integrated solution, which would be easier to do inphone world than in the Internet world because there are limited networks andvendors."