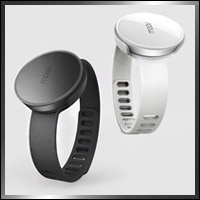 There is a new wearable fitness device on the horizon that may take this emerging technology niche to an entirely new — possibly mainstream — level.
Moov, developed by former tech specialists from Apple and Microsoft, promises not only to capture data about users' activities, but also to give them performance-improvement tips.
A crowdfunding campaign launched Thursday seeks to raise US$40,000 for a July release, and based on comments posted on the Moov Facebook page, the response has been huge.
The Moov team has been receiving "overwhelming notes and questions" and is doing its best to respond as soon as possible.
The trackers will cost $59 — two for $99 — during the crowdfunding campaign. The suggested retail price for the device, which will come with apps, is expected to be $120.
Stylish Piece of Equipment
Moov's specs do suggest a breakthrough is at hand for fitness technology enthusiasts — at least those who want to look stylish while working out. One of the competitive differentiators of Moov is its sleek and slim look.
There are other high-performance fitness devices on the market that can provide more information than, say, steps walked, but many of them are, as Rob Enderle of the Enderle Group said, "butt ugly."
"An attractive device is an absolute essential for this industry," he told TechNewsWorld. "Folks want to be proud of tech they are wearing."
Moov is equipped with an accelerometer, a gyroscope and a magnetometer to detect motion, force and rotation, respectively. Algorithms then match to the activity type and how it should be performed.
Currently there are apps for running, swimming, weight training and cardio kickboxing. Cycling and yoga applications reportedly are being developed.
Intelligence and voice capabilities are built in, to give users human-like advice on how to improve particular activities. For instance, Moov might point out that a runner is landing too hard on her toes and offer advice on how to improve her stride. Ditto for a weight lifter who might be locking his elbows while bench pressing.
Apps provide performance stats, as well as conventional metrics such as calories burned and workout comparisons.
"This is something that could almost replace a personal coach," Enderle said. "Most of the stuff in this category on the market is still very basic and does not have intelligence built in."
Where Moov apparently broke barriers was in building sensor technology cheap enough for consumers to afford and then adding intelligence to the mix, he said.
Not that this is the end of the story for this high-growth-potential tech category.
"Really, wearable technology is just on the cusp of change," Enderle said. "Moov is the next evolution, but we are far from done."
Other Companies, Other Examples
Indeed, there are other examples of soon-to-be-introduced products that could rival Moov in functionality. Startup Quanttus recently announced it had raised a $19 million Series A round for a new wearable device that will provide continuous health monitoring and analysis of "clinically relevant data" on vital signs to consumers.
Metaio showcased 3-D camera interfaces for augmented reality embedded in wearable "experiences" at the 2014 Mobile World Congress in Barcelona. Metaio is working with SAP and Intel to build devices using such technology.
Moov, though, has the advantage of a successful crowdfunding campaign, Laura DiDio, principal of ITIC, told TechNewsWorld. "Crowdsourcing has become a great publicity channel for companies besides just raising funds."