Motorola on Wednesday announced a new Android-based smartphone targeted squarely — pun intended — at the social networking crowd.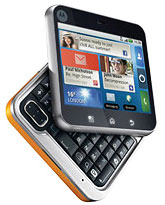 Motorola Flipout
The square-shaped Flipout is built on the Texas Instruments OMAP 3410 low-cost 600 MHz processor with 512 MB of RAM, 150 MB of available internal storage, and an included 2 GB MicroSDHC card. The phone supports up to a 32 GB card.
The Flipout has a 5-row QWERTY keyboard with a separate row for numbers that, fittingly, flips out from beneath the screen.
Bells and Whistles
It runs Android 2.1 with the latest release of Motorola's Motoblur interface that combines Facebook, MySpace, Twitter, email and multimedia feeds, and makes them available via widgets on the phone's home screen.
An accelerometer and assisted GPS are also included, and it features tracking and remote wiping capabilities should the phone be lost. It also includes Motorola's CrystalTalk Plus, which uses two microphones to improve voice quality and reduce background noise.
The phone can be used as a media player, as well. It can handle most popular music formats, as well as H.264, MPEG4 and WMV9 video. It also receives FM radio signals.
The 2.8-inch capacitive touchscreen sports a resolution of 320×240. It has an Android WebKit browser with Flash Lite support. A 3 megapixel camera rounds out the hardware features.
The phone comes with battery management software to help manage power consumption. Motorola claims 275 minutes of talk time on a charge and 377 hours of standby time.
The software also includes a data manager to avoid overage fees on limited data plans.
When closed, the Flipout is 2.64 inches square and about two-thirds of an inch thick and weighs 4.23 ounces.
No US Availability
Interested? Then you need to be living in Europe or Latin America, the only locations where Motorola has announced plans to release the phone. It's due to hit Europe in the second quarter of this year, followed by Brazil and Argentina in the third quarter.
The company isn't saying whether the phone will come to the U.S., Motorola spokesperson Juli Burda told TechNewsWorld.
Motorola isn't ready to talk pricing, either, she said.
Starter Smartphone
The Flipout will likely be more expensive than the cheaper phones the company has flooded the market with in an effort to gain market share, Chris Hazelton, research director at the 451 Group, told TechNewsWorld.
It will target the mid- to high-end international market for first-time smartphone users, he added.
However, it will still be relatively low-cost, meaning it would have to compete with the lower end of the smartphone market were it to come to the U.S., which includes Palm phones and BlackBerry handsets, as well as entry-level iPhones.
The Flipout picks up on what Hazelton said is growing interest among manufacturers in providing phones with both physical and onscreen keyboards. Despite a nod to enterprise users with Exchange email access, the phone is clearly aimed at young, style-conscious social networkers.
"You won't see IT pushing these out," he said.