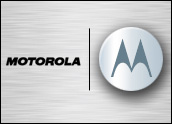 Motorola showed off a sleek, new smartphone equipped with a QWERTY keyboard and announced it had designed, in partnership with fashion sunglass maker Oakley, eyewear that includes a Bluetooth-enabled headset.
The new products were revealed this week at Motorola's analyst conference, dubbed Motonow, in which the company portrayed itself as hip and cutting edge, with Ron Garriques, president, mobile devices business, Moto Q, Motorola, describing the Q as "wickedly cool."
The multi-function Q includes Bluetooth for connectivity, a navigation thumbwheel and a 1.3 megapixel camera with flash. It maintains the look of Motorola's sleek Razr phone and is 11.5 millimeters thick. It is due out in the first quarter of 2006; pricing was not announced.
'Holy Grail'
One analyst was cautiously impressed by the Q, and Motorola's vision. "It's not only cool and fashionable, it's got high-end functionality," said Michael Gartenberg, vice president and research director, Jupiter Media. "It looks like the holy grail that people have been searching for, with the intelligence of a smartphone and fashion of a model. Motorola is working to make that a reality."
But, he pointed out, the company has had execution problems in the past. "We have seen innovative ideas from Motorola before and they haven't made it out the door. The vision is great, now they have to execute," he said, adding that he believes the company has learned from its mistakes.
The Q will use Microsoft's new mobile platform, Windows Mobile 5.0. It will compete with Research In Motion's BlackBerry and Palm's Treo, which runs on Palm OS. The Microsoft platform may give Motorola an edge.
"The Q stands out for its use of the iconic Razr design cues, and is among the first such devices to use the latest version of the Microsoft mobile software — which will be a strong selling point into enterprises because of their entrenched use of other Microsoft products," Charles Golvin, principal analyst, Forrester Research, told TechNewsWorld.
In Time for Summer Sun
Razrwire sunglasses will cost about US$300 and should be in select Cingular stores in early August, Motorola said. The deal with Oakley may give Motorola a fashionable partner, but the product line of Bluetooth headsets/sunglasses is more of a gamble, Golvin said.
"Each gets some halo effect from the other, Moto gets some cool 'cred' and Oakley reinforces its position as an innovator in products that are not technology-based. However, Bluetooth headsets are not mainstream because the technology in phones is not widespread, the devices are still expensive, and they still make you look like a cyborg," he said.
Despite announcing products it hopes will appeal to young, fashion-conscious consumers, Motorola kept its new iTunes-enabled phone under wraps. Motorola CEO Ed Zander said at the event that the phone would get its own debut party some time this quarter and would be released that same day.
Gartenberg believes that if it is priced right, Motorola, given a boost by Apple's cachet, may score big with this device.
"The Apple connection is likely to make it very popular," he said. But Golvin pointed out the problem with many multi-function products. "To date most of these devices don't do an excellent job on all the tasks they are aimed at," Golvin said.
Once again, the key will be execution, not vision.