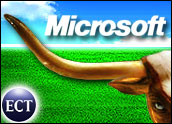 Microsoft has released the first publicly available beta of its next-generation Windows server operating system, code-named "Longhorn."
Longhorn Beta 3, the first feature-complete version of the product, builds on Windows Server 2003 by addressing the automation of daily management tasks, enhanced security, new scripting and command-line technology, and streamlined installation options, according to the company.
The much-anticipated server OS is the software giant's first major overhaul of the product since 2003. It is expected to ship during the second half of 2007.
Latest Overhaul
The Longhorn beta adds a few significant features — such as the Windows PowerShell command language interface — and new server roles, including Active Directory, print services, Lightweight Directory Services and enhanced Active Directory Federation Services.
The OS comes with Server Core, a scaled-back installation in which all configuration and maintenance is done via the command line. Users can install eight of the 18 server cores, configuring them for top performance. Server Core allows users to install components needed only for certain server roles.
Another new feature, Server Manager, aims to let users keep Longhorn's built-in Internet firewall up and running all the time. IT staff will have to unlock the firewall using the Server Manager console when installing components.
Simplifying Needs
Approximately 70 percent of IT budgets may be devoted to daily management tasks, suggesting big demand for services such as help desk, infrastructure health monitoring, and systems and update management, according to Microsoft's own internal research.
"As they take [the beta] for a test drive, our customers and partners will find we made some vast improvements in Windows Server Longhorn to help them reduce costs and adapt to changing business needs," said Bill Laing, general manager of Microsoft's Windows Server Division.
Longhorn Beta 3 should help address and simplify administration tasks via improved event logging, task scheduling, enhanced remote management and the powerful scripting capabilities of Windows PowerShell, according to Laura DiDio, an analyst with the Yankee Group.
"Microsoft has a lot riding on the success of Longhorn," she told TechNewsWorld, noting that Microsoft's Windows division represents 25 percent of the company's revenues.
The success of Longhorn will likely be measured during the beta period. "We should know within the next few days if there are any major flaws in Longhorn, and how easy it is to use," DiDio said. "Word of mouth is going to be very important."