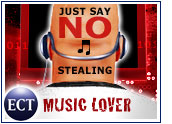 It may be a one-time fluke or a sign of the broader economic recovery, but domestic music sales in the first quarter of this year increased dramatically for U.S. record labels.
Fueled by sales from artists like Norah Jones and Usher, both of whom accomplished the now-unusual feat of selling 1 million copies of their albums in a one-week period, overall sales grew 9.1 percent during the first quarter of 2004, according to a new survey by Nielsen SoundScan.
The growth includes the sale of legally downloaded songs from legit online music services, which boasted 25 million tracks sold during the first three months of this year. For the entire second half of last year, legal downloads accounted for only 19.2 million tracks.
Online Song Sales Spectacular
Sales of albums were up 9.2 percent, and sales of CDs in general, including albums and long-play format products, grew 10.2 percent — the first growth the industry has seen since 2000. Sales of CDs account for about 95 percent of the industry's revenue, the survey said.
During the last three years, album sales have declined dramatically, dropping three percent in 2001, 11 percent in 2002 and 8.5 percent in 2003, according to the survey.
The music industry did not express wild enthusiasm about the upswing, noting that sales started "stabilizing" in the fourth quarter of last year. Fourth-quarter unit shipments helped offset a 10 percent decline to retail outlets in the fourth quarter of last year, research by PricewaterhouseCoopers indicated.
"While the music industry continues to face serious challenges, we are pleased that trends appear to be going in a more positive direction," said Mitch Bainwol, chairman and CEO of the Recording Industry Association of America (RIAA).
Bainwol said record companies have taken a proactive approach to dealing with piracy, launching educational efforts and enforcement projects, including lawsuits, to increase the public's awareness of illegal file sharing.
Independent Music Marketers
The proactive approach might have paid off, as sales at chain music stores increased by 7 percent, while independent music sales increased by 3 percent and discounters like Wal-Mart posted a 13 percent increase in sales.
Sales through legitimate online merchants, like Apple's iTunes service, also surged strongly online.
"While legitimate online services continue to proliferate and evolve to meet consumer demands, this is truly a marketplace in its infancy," said Bainwol. "Continued enforcement efforts are needed in order to create a level playing field on which legitimate online music services can compete and thrive."
Federal Prosecutors Eye Downloads
To show that the music industry still means what it says about illegal file swapping, it has enlisted the help of the federal government.
Attorney General John Ashcroft two weeks ago named a senior attorney to lead the newly created Intellectual Property Task Force at the Department of Justice. This task force will develop recommendations for how the federal government can get involved in stopping online music piracy in the future.
"We applaud the Justice Department's formation of an Intellectual Property Task Force," said the RIAA's Bainwol. "We are pleased that Attorney General Ashcroft continues to make intellectual property an important issue."
Even with all the antipiracy efforts, the illegal downloading phenomenon still poses a technological challenge to the music industry, much like the one it faced in the early 1980s, when eight-track cassette tape sales dropped, and in the early 1990s, when CDs began to replace vinyl discs.