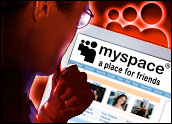 MySpace.com has taken several steps to secure its popular service against online predators trolling the Internet for new victims — a danger that critics say the company has done little, up until now, to forestall.
The company has appointed Microsoft veteran and former Justice Department trial attorney Hemanshu Nigam to oversee safety, education and privacy programs, and law enforcement affairs.
MySpace has also begun running public service announcements online and on TV, warning children, teenagers and their parents about the dangers on the Internet.
MySpace notes it has been a proponent of online safety before taking these measures, pointing to policies that restrict membership to people at least 14-years of age and require all underage users to review safety tips prior to registration. It has also deleted more than 250,000 underage profiles, it reports.
Not Enough?
Critics, though, have countered that these measures are not enough. Wildly popular among teens and tweens, the Web site allows users to post photos and other identifying information such as telephone numbers and IM handles.
The company — in large part because of its popularity — has been singled out in more than one unfavorable media profile and accused of being a virtual shopping center for pedophiles.
"MySpace and other Web sites like it, such as MyFace, are not geared around safety — they are meant to be a friendly environment to meet people," Michael Kessler, vice president of Gaggle.Net, which provides many school districts with secure e-mail and blog applications for students, told TechNewsWorld. That means there are few controls or ways to monitor what happens on the Web site, he said.
Others counter that it is up to the parents to control what their children do on the Web. "These are public Web sites," JupiterResearch analyst Joe Wilcox pointed out. "Parents can monitor what their children are posting," he told TechNewsWorld.
New Marketplace
It's a debate not likely to be settled any time soon. Anecdotal evidence — largely numerous accounts of minors meeting predators online — suggests that even the most aggressive of measures by MySpace may not be enough at this point.
"The problem is only going to get worse," warns Manny Coats, managing partner of Pandora Corporation, a provider of parental monitoring software.
Maybe a parent can control what a child posts on MySpace, but it is difficult to monitor each chat invitation and IM he or she receives. "One Web site cannot do it all," he told TechNewsWorld.