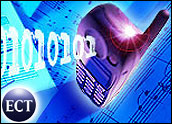 Napster and Dwango Wireless said today they will begin selling ring tones graphics, "shout-outs" from celebrities and wallpaper and graphics from Napster's library. The new service will be called Napstertones.
The move comes five months after the companies' press release announcing "Napster Mobile," which was going to offer ring tones and "be the first mobile music content provider to utilize an integrated solution extending from the PC to mobile devices via exclusive device-targeted promotional offers redeemable for PC downloads and subscription service through Napster's PC-based digital music service."
No mention was made of anything but the ring tones.
Available Now
The ring tones cost US$1.99-$2.99 and are available through mobile service providers Cingular, No. 1 in the U.S. market, and T-Mobile, which is No. 4.
The ringtone market is already a $400 million segment of the mobile content industry, Roger Entner, vice president, wireless telecommunications, Ovum Research, told TechNewsWorld. He said Ovum is projecting that the market will grow to $1.4 billion by 2010. Part of the reason for that is the dramatic increase in the quality of ring tones.
"TruTones sound really good. I have a small problem and that is that sometimes I can't tell my ringtone apart from TV or other music," Entner said.
Incentive To Buy Now
To entice music buyers to the new service, people who purchase their first ringtone from Napstertone within the next 30 days will be able to choose a free song download from Napster's catalog. Napster also plans to offer a prepaid card for the new service by the end of the summer.
Apple iTunes teamed up with Motorola to try to sell ring tones, but has hit obstacles both from service providers and from music companies who say 99 cents is too low a price for songs.
"The wireless carriers don't want to touch it," Entner said. "The 99 cent price is catching the wrath of the record industry."
That leaves Napster to cash in.
"Everybody sees music as an opportunity. You can align yourself with the music industry and make $2 or you can align yourself with two guys in California who don't own the music and get 99 cents. I'll take the two bucks," Entner said.