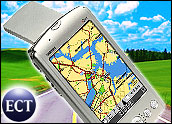 You may have relied on the portable iWay 350C, from Lowrance Electronics, to navigate your latest road trip. In the future, you will probably be able to use your mobile phone from Nokia or Motorola, or another wireless technology developer, for that same task.
A research study indicates that at the right price, cellular phone companies and traditional automotive system suppliers are positioned to present a serious competitive response to the low-cost, well-branded navigation products from TomTom, Garmin, Magellan and Lowrance.
"There are now indications that portable navigation device [PND] growth is slowing; and the demand from the smaller but highly significant segment of consumers who require route guidance on a regular basis has practically been met by low-cost PNDs," said, Joanne Blight, director, automotive practice, at Strategy Analytics, a research consultancy based in Boston.
Investment and competitive pressures are expected to drive consolidation among portable navigation vendors in the next 12 months, driving down prices further.
'Strategic Crossroads'
Navigation vendors are approaching a "strategic crossroads," so to speak, as strong, but latent, demand for low-cost, basic route guidance is increasingly required. New car vendors across the U.S. and Europe indicate that at least 18 percent of drivers require maps or directions more than 20 percent of the time. The majority of consumers, over 60 percent, only spend five percent of their travel time going beyond familiar destinations, the research demonstrates.
"The next challenge is to meet the needs of the much larger consumer segment who require route guidance on a far less regular basis," said Blight, who is based in London.
These consumers will require products that combine and integrate navigation with a range of other features, starting with road traffic information, but increasingly require entertainment and innovative location-based applications. "The automotive and wireless companies are very well positioned to mount some serious competition in this section of the navigation market," she added.
The new Strategy Analytics report is called "Portable Navigation: Vendors Face Consolidation and Automotive Fightback."
Adapting a New Strategy
For some developers, the new automotive navigation market will require an aftermarket strategy. For example, though it is well-ensconced as one of the leaders in the U.S. market for embedded auto navigation systems, electronics maker Alpine is bending to competitive pressure from portable devices from the likes of TomTom, Garmin and Lowrance, launching its own portable navigation device.
Designated as the "Blackbird," the navigation unit comes pre-loaded with map data for all of the U.S. and Canada, and furnishes full turn-by-turn voice directions to every address, intersection or pre-loaded point of interest, including hotels, restaurants, airports and, the always-important gas stations.
Alpine's device is also a Radio Data System (RDS) traffic data receiver — which requires a service subscription — and an MP3 player accepting music files on SD cards.
The trip technology retails for about US$750, with traffic data services starting this summer, for a $60 annual fee.
Falling Prices
The price war, though, is getting brutal in this space. Another firm that recently debuted its own navigation device, Redwood City, Calif.-based Ares Digital, launched the MyGuide portable navigation device. At a suggested MSRP of $399, the full-featured portable device comes with 512 MB of memory, a large viewing screen and full accessory kit, and also doubles as an MP3 player. Doubling as an MP3 player is no longer an option, but a requirement, for mobile nav systems, which, of course, are competing against mobile phones, which are also serving as portable MP3 players.
The products are designed for consumer or business use, said Randolph Kemps, chief executive officer of Ares Digital. "The GPS market in the United States is growing very rapidly," he said.