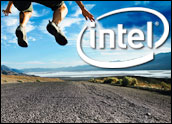 Intel, which wants to be at the forefront of a trend toward more powerful mobile devices capable of full Internet capability, said its new Menlow platform will be a big part of that future.
Discussed at this year's Intel Developer's Forum (IDF) by Anand Chandrasekher, the senior vice president and general manager of Intel's Ultra Mobility Group, the platform will be based on a new 45nm low power micro-architecture-based processor and a new chipset. The processor is code-named "Silverthorne" and the chipset is code-named "Poulsbo."
The platform is designed for mobile Internet devices (MIDs) and ultra-mobile personal computers (UMPCs).
No Half-Baked Internet
The key is bringing people the ability to have the full Internet experience in a portable device, Chandrasekher said. While many such devices currently provide Internet access, they are usually constrained. Even the Apple iPhone — touted as bringing "true" Web browsing — is unable to handle popular Web applications such as Flash animation.
Intel's goal is to make those limitations a thing of the past, Chandrasekher said during his IDF address.
"Mobile users are demanding to take the full Internet experience anytime, anywhere," he said. "In essence, these users want the full Internet to be delivered to them wirelessly and in their pocket."
Intel, beginning early next year, "will take a major step to deliver what these users are looking for" with Menlow, its first platform designed specifically for MIDs and UMPCs, Chandrasekher said. The platform will reduce power consumption by tenfold while the platform that will succeed it, codenamed Moorestown, "will increase battery life an order of magnitude by reducing idle power by 10 times compared to Menlow," he said.
An Alliance for Innovation
To enable the Menlow-based devices to stay continuously connected to the Internet — a vital feature, from Intel's perspective — the devices will use multiple forms of connectivity, including WiFi, 3G and WiMax. Several prototypes were shown at the conference, devices Chandrasekher said were built based on work done by the Mobile Internet Device Innovation Alliance.
"Together, alliance members have worked on engineering challenges, including power management, wireless communications and software integration," he said.
Early, pre-Menlow, designs — using the Intel A100 and A110 processor, the Intel 945GU Express Chipset and the Intel ICH7U I/O Controller Hub — are being built by Aigo, Asus, Fujitsu, Haier, HTC and Samsung. The Intel Ultra Mobile platform 2007 is based on the Intel processor A100 and A110, the Intel 945GU Express Chipset and the Intel ICH7U I/O Controller Hub.
The ARM Factor
Many mobile devices currently use low-power processors made by ARM. Intel believes the ARM units are not good enough for full-fledged Internet use.
ARM is unlikely to stand idle while Intel tries to take over the mobile world — nor will Intel's biggest rival, AMD — Enderle Group Principal Analyst Rob Enderle said.
"If the ARM folks don't do something they are looking at their market going away when they can't offer the level of compatibility or capability Intel is talking about," Enderle told TechNewsWorld. "I have a hard time believing they are going to stand back and let Intel take the market. AMD does not have a part that really competes in this space yet. AMD's play is going to be with the ARM folks initially."
Apple's iPhone is the groundbreaker in the market Intel is pursuing, Enderle said. Since the iPhone uses the ARM processor, ARM "is the entrenched vendor, so by no means is it a sure thing Intel is going to own this space."