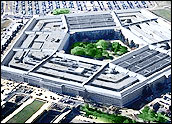 The Department of Defense will proceed with the creation of a new command to coordinate the day-to-day defense of military, federal government and critical civilian networks from attack, according to numerous press reports.
The cyberdefense command will be part of the U.S. Strategic Command, a multiservice military operation that is responsible for, among other things, cyberwarfare policies. Defense Secretary Robert M. Gates proposed that the command be led by the director of the National Security Agency, according to the media reports.
The appointment is subject to President Barack Obama's approval.
The Department of Defense media relations office did not return telephone calls from TechNewsWorld seeking comment on the reports.
Protection for Civilian Infrastructure
In a June 15 speech at the Center for Strategic and International Studies in Washington, Deputy Defense Secretrary William J. Lynn hinted that such a decision was coming.
He told audience members that the command would focus on protecting military computers using the ".mil" domain address, and the Department of Homeland Security would retain its lead role in protecting civilian government networks on the ".gov" domain.
Protecting private-sector networks would remain private, he said, but he added that it would be "inefficient — indeed, irresponsible" not to use NSA capabilities to help protect non-military systems.
"What we must do, of course, is to apply that expertise in a way that upholds and respects our civil liberties," he said.
Private Property at Risk
Such a command is a critical part of national security, said Pardeep Khosla, dean of the College of Engineering at Carnegie Mellon University.
Chinese computers have already mapped the Internet presence of the nation's power grids — a frightening prospect, he said.
"This is the equivalent of satellite surveillance in a traditional understanding of warfare," said Khosla.
Putting a military command in charge of helping protect both government and civilian infrastructure would make sense, in his view.
"If someone declared war on our country, most of what's going to be destroyed is private property," Khosla observed.
On the Cyberoffensive
The command will apparently also help to develop offensive weapons, which is essentially using existing and as-yet undeveloped hacking techniques against the nation's enemies, Khosla said.
Such a capability could be controversial, remarked Clifford Neuman, director of the Center for Computer Systems Security at the University of Southern California.
"That's what a lot of the debate about the cybercommand has been about," he said.