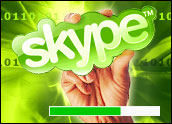 Consumers will no longer have to fiddle with headphones and a microphone to make free Internet telephone calls, experts tell TechNewsWorld.
Skype, the global Internet communications company, this week introduced a new USB phone adapter that allows regular consumers to use their existing corded or cordless telephone to take advantage of Skype's free calling features. Skype is working with Fountain Valley, Calif.-based D-Link, a networking company, to bring the technology to market.
More Flexibility
"Our mission is to make Skype easy and fun to use for consumers everywhere," said James Bilefield, vice president of business development for Skype. "The D-Link Skype USB phone adapter makes Skyping even more convenient, providing flexibility to our users who want to take advantage of our free services and connect to Skype via their traditional telephone."
The D-Link Skype USB adapter enables users to do the following:
Use a traditional or existing phone to make Skype calls;
Receive or make both traditional telephone and Skype calls from the same phone;
Use an existing traditional phone rather than a headset;
Use a cordless phone and talk freely throughout the house;
Use built-in features, including call waiting, conference calling and call forwarding.
The USB phone adapter (DPH-50U) lets users accept both regular telephone and Skype calls from the same phone for added flexibility. When consumers are talking on a traditional telephone line and receive an incoming Skype call, they can easily switch lines to take the Skype call or vice versa, just like a typical call-waiting feature, the company said.
Traditional Phones
"At D-Link, we know that the digital home is all about integration and ease-of-use," said Keith Karlsen, executive vice president, D-Link. "By extending Skype to be accessible through traditional phones, we can make the benefits of Skype even easier to experience."
Conference calls may also be connected between ordinary telephone lines and Skype. The D-Link Skype USB phone adapter includes a lighted display to indicate whether an incoming call is from a traditional telephone or from a Skype user. Using a cordless phone unties the user from the computer while making Skype calls. What is more, using the traditional telephone enables consumers to use their telephone's built-in features, such as speed dial, redial, mute and caller ID.
The company said the USB phone adapter is PC-compatible, and includes two RJ-11 ports and a USB port to conveniently connect an ordinary phone line, telephone and computer. The adapter receives power from the computer through the USB cable, and it does not require an additional power supply.
The included software installs in just a few minutes and allows users to easily and completely manage their Skype contact list and calling features, the company said. The D-Link Skype USB phone adapter can be configured to forward incoming Skype calls to another destination, such as a cell phone, so that users never miss a call while away from their PCs.
The D-Link Skype USB phone adapter (DPH-50) will be available globally at a manufacturer's suggested retail price of US$69.99. The adapter will be made available atskype.com/store and at theD-LinkShop, as well as major U.S. retailers, such as RadioShack, and select retailers in Europe. The product debuted this week at the International Consumer Electronics Show in Las Vegas.
Skype 2.0 a Month Old
Skype just last month released the beta version of Skype 2.0 and announced new collaborations with several hardware and software providers — so this latest news is something of an evolution in the company's marketing strategy, not a revolution.
"At Skype we want to make talking over the Internet the most natural, simple thing for people all over the world to do," said Niklas Zennstrom, CEO of Skype. "With the release of our new software, it's never been easier for people to talk to one another for free, and now they can see each other with video as well."
Skype 2.0 beta includes a simplified user interface with an intuitive menu and one-click access to key features and options, as well as functions that allow users to broadcast their mood along with their online presence.
Users can also see their contact's time zones and organize them by groups, including co-workers or family members.
A search feature allows users to look up contacts in real-time by typing a name into the dialing field. One-click calling to contacts from the user's Microsoft Outlook address book is also included.
Skype makes Voice over Internet Protocol (VoIP) software that is available for free in 27 languages. The company generates revenue through its premium service offerings, such as making and receiving calls to and from conventional and mobile phones, as well as voicemail and call forwarding services.
The company also has a growing network of hardware and software partners, with Logitech and D-Link among its latest collaborators.