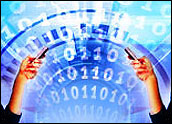 The Wi-Fi Alliance is preparing a new specification designed to allow devices from cellphones to printers to connect to each other reliably, securely and wirelessly.
WiFi-enabled devices can currently connect peer-to-peer in what's known as "ad hoc mode," but configuration issues and security concerns have limited the usefulness of the capability.
The new specification, called "Wi-Fi Direct," appears poised to replace ad hoc connections.
The Wi-Fi Alliance, comprised of more than 300 firms with a stake in WiFi networking technology and services, expects to begin certifying devices in the middle of next year.
Despite security improvements over ad hoc connections, the new technology isn't likely to catch on big in offices, said Phil Solis, an analyst with ABI Research.
"I think this is probably something that would apply more to the consumer space than the enterprise space," Solis told TechNewsWorld.
Direct vs. Ad Hoc
The new specification will include WPA2 security and functionality that will allow enterprise IT managers to find and disable Wi-Fi Direct groups, or to manage connections so that security protocols are maintained, according to Wi-Fi Alliance spokesperson Karl Stetson.
The specification will support the same ranges and data rates as existing infrastructure-mode based WiFi connections — up to 250 megabits per second compared to the 11 Mbps offered by ad hoc connections, Stetson said.
Devices will be able to connect in pairs or in groups.
Unlike ad hoc connections, Wi-Fi Direct devices will be able to advertise their services and locate one another, according to Stetson.
Existing WiFi-enabled devices may be able to connect to the Wi-Fi Direct networks by means of a firmware or software update, the alliance said, meaning the technology will not be limited to new devices.
"Wi-Fi Direct represents a leap forward for our industry," said Wi-Fi Alliance executive director Edgar Figueroa. "Wi-Fi users worldwide will benefit from a single-technology solution to transfer content and share applications quickly and easily, even when a WiFi access point isn't available."
Manufacturer Support
Several manufacturers rushed to proclaim their support for the new spec, including Apple, Marvell, Ozmo Devices and Atheros Communications.
Atheros demonstrated a peer-to-peer chipset for mobile devices last year. That product is now shipping in mobile devices, the company said, and will be fully compatible with Wi-Fi Direct.
Marvell is similarly offering a Wi-Fi Direct evaluation kit based on its Mobile Hotspot technology.
Impact on Other Technologies
The potential impact on technologies like Bluetooth — the short-distance low-power system often used to pair electronic devices such as printers and keyboards to computers and wireless headsets to telephones and music players — isn't clear.
However, the potential uses for Wi-Fi Direct include connections to printers, keyboards and headphones, according to the Alliance.
The Bluetooth SIG, which develops and publishes specs for that technology, did not return messages seeking comment on the Wi-Fi Direct announcement and its potential impact on Bluetooth adoption.
Wi-Fi Direct is not likely to become a Bluetooth killer, said Solis.
"It's just going to give you more options in how you can connect devices," he said.
An increasing number of chipsets are shipping with built-in support for WiFi, Bluetooth and FM, and each technology may be able to bring specific strengths to bear.
In the end, it's likely that developments such as Wi-Fi Direct will speed acceptance among service providers of using mobile broadband connections to provide access to a broad range of devices, Solis said.