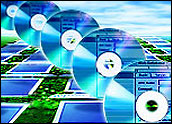 As Sony and Toshiba jockey for position in the next-generation DVD battle, storage company Iomega looks farther into the future.
Sony, backer of the Blu-ray high-definition DVD format, and Toshiba, backer of rival HD-DVD, have been going head-to-head for three years over which format should prevail, but time is running out. HD-DVD products are slated to be released in the fourth quarter and Blu-ray products by mid-year 2006. Sony has said it will include a Blu-ray disc player in its PlayStation3.
"We may actually have a situation where merchandise from both sides is put on store shelves. But the market would not allow that situation to last very long," Toshiba President Tadashi Okamura said in a conference yesterday in Japan.
Time Running Out
Some have interpreted this statement to mean that Toshiba is nearing an agreement with Sony, but based on a statement by Ken Kutaragi head of Sony's game player unit, at the same meeting, that seems unlikely.
"The only hope is if we can reach an agreement in a week or two on a new format that is not that different from Blu-Ray physically," Kutaragi said.
Okamura's statement could also mean that he believes consumers will make the decision, similar to what happened with Betamax and VHS in the early 1980s.
"If there are multiple formats and standard DVDs will be available for the foreseeable future, it's just going to be mind-numbing for the consumer," Josh Martin, associate research analyst, consumer markets, IDC, told TechNewsWorld. "It will be difficult for retailers too. It'll take a lot of shelf space to store all the different formats."
Slow Adoption
The scenario is likely to stunt market growth for either product. Martin pointed out that there's no compelling reason to switch from DVDs to the new generation since most people don't have HD-capable TVs and will probably not want to invest in a format that may not last.
As it stands now, studios are split, too, with some saying they will release movies in HD-DVD and some backing Blu-ray. That means that consumers will not be able to get all the movies they want in one format.
800 GB of Storage
Looking even farther into the future of DVDs, Iomega was issued a patent on April 12 for a laser-writing method that could cram 800 GBs of information onto a disc. In comparison, Blu-ray discs can hold 200 GBs and HD-DVDs 45 GB. Current DVDs hold about 8.5 GB.
Iomega's Articulated Optical Digital Versatile Disc (AO-DVD) works by burning grooves sloped at different angles that refract light. The light will bounce off several of the ridges and be interpreted by the reader.
"It is one of those 'What ifs?' Holographic storage has been talked about for more than five years," Martin said. "Even if the technology were viable in a couple of years, there are a couple of problems. The digital rights management problem won't be resolved and the next generation technology will have already taken hold."
Content providers, such as the movie studios and music producers, fear that high-quality, high-capacity discs will make piracy more rampant. Martin said that without safeguards, these industries are highly unlikely to endorse a new format.