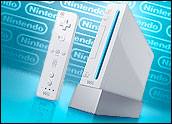 Mario must be feeling super today. The latest game console sales figures for America, compiled by NPD Group, show his creator, Nintendo, outdistancing the competition by thousands of units.
There were 485,000 Nintendo DS units sold in February and 335,000 sales of Nintendo's newest console, Wii, according to the NPD report. That means Nintendo almost sold as many Wii consoles last month as both its main competitors combined.
Wii sales more than doubled those of the Sony PlayStation 3, of which only 127,000 units were sold, and handily outpaced those of Microsoft's Xbox 360, which came in at 228,000 units.
Meanwhile, 295,000 people purchased PS2s in February, the report indicated.
The popularity of the Wii console was evident in the impact its sales had on the company's supply chain, Nintendo said. Gamers were "snapping up virtually every system available in America," the company added.
Combined, Nintendo game systems "represented 54 percent of all hardware sales in February, more than those of all other manufacturers combined," noted the company.
Console sales on a year-to-date basis increased by 106 percent, NPD researcher David Riley told TechNewsWorld. However, he noted the 2007 year-to-date figures include an extra week when compared to 2006 figures.
PS2: The Old Standby
Sony can take some solace in knowing PlayStation 2 continues to be a strong seller despite the availability of its would-be replacement, the PS3.
However, when it came to game sales, Sony came out on the bottom. The only game for a Sony console to make NPD's top 10 list was "Guitar Hero 2" for PlayStation 2, of which 130,000 were sold.
Microsoft, too, can take away something positive from the NPD report: the game "Crackdown" for Xbox 360 was the top-selling console game in the report, at 427,000 units. In addition, of the 10 games on the list, five were for the Xbox 360.
Toned-Down Reggie
"We're gratified that the explosive appeal of Wii, in terms of both new players and new ways to play, has created unprecedented demand, substantially beyond supply," said Nintendo of America President Reggie Fils-Aime. "But we also understand that there are hundreds of thousands of consumers still waiting to get their hands on the system, so we continue to both ship more units to retail every week and work non-stop to build capacity."
That's a bit more reserved than the Electronic Entertainment Exposition speech by Fils-Aime that won the hearts of many Nintendo gamers: "My name is Reggie. I'm about kickin' ass. I'm about takin' names. And we're about making games."
Simply Fun
The sales figures seem to show he meant what he said, but Envisioneering Group Research Director Richard Doherty told TechNewsWorld the simplicity of Nintendo's products has as much to do with their success as anything else.
"Keeping it simple, stupid, is winning," said Doherty. "Both Wii and the DS don't require big instruction books and that's expanded the audience." Sony and Microsoft took a different path, producing consoles of stunning power and complexity … and price, he added.
"They've gotten complicated and both companies are following a core gamer audience … whereas Wii and DS are working for both young and old [newcomers to gaming]," Doherty explained. "The DS has games that go down to pre-school level and the Wii has games where you don't even need to crack the instruction manual at all to play."
Nintendo, citing "reports from households across the country," said Wii "has become the centerpiece for weekend parties, a new method for improving athletic technique and losing weight and a landmark product for generating cross-generational fun."