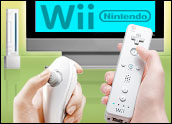 Nintendo's Wii is entering the game marketplace as the clear underdog, going up against No. 1 and No. 2 heavyweights, Sony's PlayStation 3 and Microsoft's Xbox. Unable to compete based on high-definition graphics or speed, Nintendo's Wii is being positioned as a more fun — and at US$250, far cheaper — alternative to the other two consoles.
The David versus Goliath metaphor is quite apt to describe the Wii's quest for market share in this space, with the product going to battle armed with the gaming equivalent of a slingshot. The Wii's major feature of distinction — its innovative remote controller — is not necessarily superior to what the PlayStation and Xbox offer, Yankee Group analyst Mike Goodman told TechNewsWorld.
It is, however, an intriguing offering. The Wii Remote lets players move or swing the device just as it would a bowling bowl or tennis racket — a feature that has gained the product significant traction through word of mouth and various marketing campaigns.
At bottom, though, Goodman doesn't believe the Wii will expand the game console market by a significant margin.
"Nintendo might pick up a few points. It is a nice system, and from an engineering standpoint, it does some interesting things," Goodman said. Ultimately, however, he does not view it as a groundbreaking development.
Younger Audience
Breaking new ground may not have been Nintendo's intention with the Wii, which ships with Wii Sports, a collection of bowling, tennis, baseball, boxing and golf games. Nintendo's go-to-market strategy for the Wii targets younger people and users not as entrenched in the gaming culture as some.
Among the console's features are an online store for downloading games and the Wii Channel, an online service that provides Internet access, downloads news, and can act as a message board between a user's friends and family members.
Publishers are developing a good portfolio of games for the Wii, Goodman said, which — despite their lackof HD graphics — are fun to use.
Wii will be a good system for younger players, he noted, "but when they get older — say past 12 or 13 — they will want systems that are for big boys."
Nostalgia Factor
There is another demographic group the Wii is targeting: the over-30 crowd nostalgic for games that originated on older console platforms such as NES, Super NES, Nintendo 64, Sega Genesis and TurboGrafx16.
By the end of the year, there will be some 32 new titles available, Nintendo said, including "The Legend of Zelda: Twilight Princess," "Madden NFL '07," "Need for Speed: Carbon" and "Tony Hawk's Downhill Jam"; category-redefining adventures like "Red Steel," "Elebits" and "Trauma Center: Second Opinion"; and Hollywood favorites like "Cars," "SpongeBob SquarePants: Creature from the Krusty Krab" and "Avatar: The Last Airbender."
"Whether you pick a completely new property or a classic franchise, the Wii experience draws you in," said George Harrison, Nintendo of America's senior vice president of marketing and corporatecommunications.