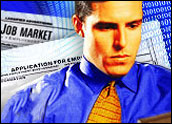 A new study released this week by a Nobel Prize-winning economist dispels doubts raised by demagogic politicians on the campaign trail — and in Congress — about the impact of outsourcing on the U.S. economy, stating that outsourcing actually increases jobs and pay for IT workers.
The report was released by the Information Technology Association of America (ITAA), a trade group located in Washington, D.C., and is titled "The Impact of Offshore IT Software and Services Outsourcing on the U.S. Economy and the IT Industry."
Nobel Prize-winning economist Dr. Lawrence R. Klein, the founder of Wharton Econometric Forecasting Associates, was a coauthor of the study.
Higher Wages, More Jobs
"Global sourcing creates more jobs and higher real wages for American workers," ITAA president Harris N. Miller told TechNewsWorld. "Now we have the data that prove it."
Miller said that far from being an economic "tsunami" that washes away domestic IT employment as some believe, global sourcing helps companies become more productive and competitive.
"The savings produced through worldwide sourcing are invested in new products and services, in new market expansion and, most importantly, in creating new jobs and increasing real wages for American workers. This research replaces fear with sound economic analysis, allowing for an informed approach to the global marketplace," said Miller.
Major Findings
The major findings of the landmark study are as follows:
Worldwide sourcing of IT increases total employment in the United States and generated an additional 90,000 U.S. jobs last year.
By 2008, net new jobs created by outsourcing will total 317,000.
In the software and services area, the economy will create 516,000 jobs over the next five years; of those jobs, 272,000 will go offshore and 244,000 will remain onshore.
With inflation kept low and productivity high, worldwide sourcing will increase real wages in the United States by 0.13 percent in 2003, climbing to 0.44 percent in 2008.
Cost savings and use of offshore resources lower inflation, increase productivity and lower interest rates. This trend boosts spending and increases economic activity.
Overall, outsourcing contributes significantly to real U.S. gross domestic product (GDP), adding $33.6 billion to the total in 2003, the study said.
By 2008, the real GDP will be $124.2 billion higher than it would have been in an environment in which offshore IT software and services outsourcing did not occur.
Political Controversy
The report's findings are sure to be controversial politically, if not economically. Presumed Democratic presidential nominee Sen. John Kerry (D-Massachusetts), who is this week off the campaign trail due to surgery, has been critical of the outsourcing trend and has built his entire economic plan around a proposal to repatriate jobs to the United States with one-time tax incentives.
The current White House generally supports free trade but has backed off from its embrace of outsourcing after comments about the trend by its chief economist were used to fuel the Kerry campaign.
The industry remains in favor of the trend. "Many small to mid-size firms are turning to outsourcing in order to survive and grow in our competitive new global economy," Dave Kasell, chairman and CEO of International Smart Sourcing (ISS), a Nasdaq-traded firm, told TechNewsWorld.
Kasell said that is due to the fact that outsourcing relationships are long-term, not one-off, and are used by firms to keep pace with technological advances.
Outsourcing Outsourcing
Many companies work with consultancies like ISS, which has a staff of bilingual project managers working in China, as well as state-of-the art custom communications software that allows them to track and manage the manufacturing process seamlessly. In essence, they outsource their outsourcing.
"The benefits of free trade clearly provide a boost to the U.S. economy," Nariman Behravesh, chief economist at Global Insight, told TechNewsWorld.
"Using offshore resources reduces costs, dampens inflation, lowers interest rates, increases spending and creates additional jobs," Behravesh said. "The challenge is to help displaced workers transition to other productive activities."