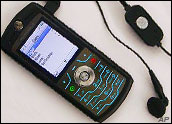 Demand for noise reduction is the latest trend shaping the design of new mobile phones, this time leading not only to simplified phones, but to new layout and assembly methods.
According to findings in the recent Strategy Analytics report, "Filter Market: BAWs Enable Modules for Multi-band Handsets," the filters used in multi-band modules, including power amplifier, antenna switch, low noise amplifier and transceiver modules, will grow to an estimated 40 percent of filters in 2010.
"Bulk acoustic wave filters will play an important role as an enabler for compact front-end modules, but just having the right technology will not guarantee success," said Chris Taylor, director of the wireless component service at Strategy Analytics, the Boston-based research consultancy. "Suppliers will also need to develop modules for the right combinations of bands, which will require understanding the plans of the regional carriers well before requisitions for new handsets are issued."
Design Shifts
Demand for new designs has been driving mobile phone demand for several years now. The evidence of that is no greater than that seen in the sales results of Schaumburg, Ill.-based Motorola. In its first quarter earnings, Motorola announced a 23 percent increase in sales and indicated its global handset market share reached 21 percent, up 4.8 percentage points from the year-ago quarter, solidifying its position as the second largest maker of cell phones, behind rival Nokia.
Motorola's "Razr" and "Slvr" phones have become the top target for competitors, including Samsung and Nokia, inspiring a new line of slim-phone imitators aimed to cash in on thin.
"Razr is the one that everyone is chasing after," said John Slack, an analyst who tracks Motorola for Morningstar, based in Chicago. "The Razr is the most popular phone in the world."
During a conference call on April 24, Motorola's CEO Edward J. Zander said the company will ship in the current quarter its "50 millionth Razr" since its launch a year and a half ago. "As I remind everyone in my staff," Zander added, "there are still a couple of billion people on this planet who can use a Razr."
Rivals see some room to maneuver — and design may be the key. Nokia, the market leader in mobile handsets, has launched several new thinner phones, showing the echo effect that the Razr has had on cell phone design. The Nokia 8801, the latest Nokia phone to hit the U.S. market, is listed at US$800 and measures just .74 inch thick. By comparison, the Razr is just .54 inch thick and sells for $250.
Laurie Armstrong, senior manager of media relations for Nokia, reluctantly admitted that the Razr had stimulated the demand to make phones thinner. "Certainly there are a lot of trends in the market place," Armstrong said. "We're keeping on top of our trends and our research."
As Seen at CTIA
At the Cellular Telecommunications & Internet Association (CTIA) conference in Las Vegas in early April, Nokia unveiled the ultra-thin 6216 phone, which is selling for $250 and looks like the Razr's evil twin, but is a tad bigger. The The 6216 is .67 inch thick and weighs 112 grams, and is slated to be available during the second quarter.
"Design is coming into play more and more," Armstrong said.
Other companies have been even more aggressive in their forays to follow Motorola's leadership in the slim phone market.
The new Samsung A900, also known as the Blade, is "pretty much a Razr knock-off," research analyst Slack said. Aside from similarities in name, the Blade is the closest phone to the Razr with its .57 inch thick frame and price of $200. The phone became Sprint's most popular seller in the first quarter of 2006, Slack noted.
"Let me first talk about our competition copying our design," Zander said in response to analysts' question about rivals' phones. "Because when they're doing that, they're not doing anything innovative."
Motorola may continue to set the pace here. The company launched the "Slvr" phone earlier this year, which is just .45 inch thick and in its first 180 days has outpaced the Razr's first 180 days, according to Zander. Noise reduction may just be the next step for Motorola too.