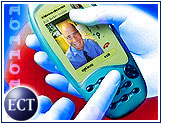 Nokia — like the rest of the wireless telephone industry — has suffered in the public eye of late. First, the tech downturn harmed wireless phone sales around the world, not just in the United States. Then came allegations that Nokia's wireless phones were exploding due to negligent manufacturing and were causing personal injuries to users.
The company has answered the charges, fighting back with a publicity campaign and high-profile announcements about new technologies — changing the subject, so to speak, like a professional politician. In response to the battery incidents, Nokia says that more than 5 million cheap counterfeit batteries are sold yearly and used in phones like the Nokia 3310, marketed by manufacturers without permission.
The company announced it is now fighting against makers of counterfeit wireless phone batteries with "aggressive, regional anticounterfeit measures," blaming them for the exploding-battery incidents.
These alleged counterfeiters are a "very sophisticated enemy," said Nokia. But a Belgian consumer group, Test-Aankoop, disagreed, alleging that Nokia batteries had been shown in their tests to be unreliable as well.
In a likely effort to get this news off the tech page, Nokia has been making a series of tech news announcements.
Interoperability Battle
Most recently, an interoperability battle has been looming within the mobile phone industry over technical standards for walkie-talkie-like technology. The dispute over push-to-talk (PTT) technology has emerged in the run-up to the CeBIT 2004 computer show.
Ericsson, Motorola and Siemens all have announced the first joint interoperability tests for push-to-talk technology. The companies hope the tests will provide network operators with easy integration, interoperability and a competitive environment in which to deploy commercial PTT services.
Meanwhile, Nokia has said its own new PTT infrastructure solution will also enable operators to use manufacturers' push-to-talk terminals.
Changing the Subject
According to Nokia, push-to-talk technology will be available extensively throughout the United States and Europe within two years, regardless of manufacturer or specific protocol. Nokia is planning to debut an array of new push-to-talk telephones this year, and by 2005, all of the company's phones will have the walkie-talkie feature.
"During 2004, Nokia will introduce a full range of push-to-talk-capable GSM phones," said a statement from Nokia's headquarters in Espoo, Finland. "From 2005 onwards, push to talk will become available for all Nokia phones." The push toward PTT technology is an example of market-making risk taking by the company, because push-to-talk tech is available today only from Nextel, Verizon and Vodafone in the United States.
But the calculated risk — announced at the end of last year at the Mobility Conference in New York City — also comes at a time when the market for cellular phones is experiencing slower growth than in the past, so it could be the key to future success for the company.
For example, Motorola, a Chicago-based handheld maker and Nokia rival, is in something of a tailspin due to declining growth rates of the wireless handset market in the United States. There has been a management shake-up at that company, too.
Rich Tech Lineage
Nokia has a rich tech lineage and sound partnerships to draw from. This lineage will aid the company in its new marketing push, especially if it comes down to a battle over PTT standards or protocols. The company clearly knows its way around the industry, courting not just consumers with new technology, but developers as well. Nokia has a well-known software-developer support program, one quite similar to the software developer programs led by major computer companies. It is called Forum Nokia.
Companies involved in the program include Adobe, AppForge, Borland, Macromedia, Metrowerks and other companies. Languages the developers are working with include MIDP 2.0, Multimedia Messaging Service (MMS), xHTML, Symbian and Java. "Nokia exerts no control over development projects," a company spokesperson told TechNewsWorld. "Our role is purely to assist and support."
Whether Nokia's connection with developers, consumers or standards-setting bodies will be enough to help the company's own PTT protocol dominate the industry remains to be seen. Nokia's rivals in the telecommunications business are not sitting on the sidelines. They are coming forward with new technologies, trying to combat Nokia's technological edge.
Sometimes even a tech leader like Nokia finds that new products themselves — outside of seemingly innocuous batteries — can be controversial. The company recently came out with a TV phone in its homeland, only to learn that the government there wanted to tax all users of the device with a TV license that it charges homeowners with conventional TV sets for the privilege of watching Finnish public TV.