Nokia announced Monday it will return to the PC market, an arena it abandoned in 1991 to focus on the growing mobile phone field.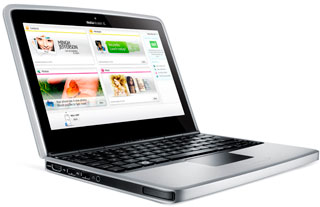 Nokia Booklet 3G
The new device, featuring integrated GPS and a claimed 12-hour battery life, will be formally unveiled Sept. 2 at Nokia World, the company's annual expo.
The netbook, to be called the "Booklet 3G," will likely be sold through telecommunications retailers, leveraging Nokia's strong relationships in those channels to market the device as an extension of the mobile lifestyle, Gartner PC industry analyst Ranjit Atwal told TechNewsWorld.
The big question is price. Most netbooks retail for less than US$500. Nokia hasn't announced the price of the Booklet 3G, but Atwal has doubts it will hit the prevailing price point.
"It looks like more of a highly valued, premium mini-notebook," he said.
Meet the Booklet
Nokia hasn't released full specs on the device, saving that for its big party in Stuttgart, Germany, next week. However, here's what we do know: It will weigh 2.75 pounds, will be wrapped in an aluminum chassis and will include an HDMI port, an integrated video camera, Bluetooth and an SD card reader.
The netbook will include an integrated 3G modem and WiFi.
It will also be set up to take advantage of Nokia's Ovi service, which allows users to access and sync music and data between the netbook, the user's mobile phone and a Web-based platform.
One of the key claims is battery life. The claim of 12 hours of unplugged computing power would put the device into a class of its own, Atwal said. However, it's too soon to know if those claims will really pan out, as battery-life claims are notoriously inexact.
Back to the PC
The device will be Nokia's first computer since it sold its consumer electronics division in 1991 to direct its attention to mobile phones.
The company still dominates that worldwide arena with 38 percent of the global handset market and 41 percent of the smartphone market, according to Nokia financial data. However, the company is facing sliding revenues from its core products and increasing competition in the smartphone market.
The company has been upfront with investors about its plans to expand its horizons into convergent devices that marry the communications capabilities of wireless phones with the computing capabilities of laptop computers.
To that end, Nokia likely will restrict itself to the mobility segment of the PC market — meaning we're unlikely to see Nokia-branded desktops or even larger laptops designed as desktop replacements, Atwal said.
Netbooks have been one of the few relative bright spots in the tech sector this year. Gartner expects 21 million units to be shipped this year, rising to 30 million in 2010. Research firm ABI is even more bullish, forecasting 35 million units shipped in 2009, growing to 139 million in 2013.
Nokia Collaborating With PC Industry Giants
The Booklet 3G is likely not Nokia's last foray into the field, however.
Earlier this month, Nokia also announced a research deal with Microsoft designed to lead to mobile products based on Nokia's Symbian mobile OS but featuring Microsoft business solutions.
In June, the company announced a research deal with Intel meant to foster innovation in the mobile internet device field.
The Booklet is likely an early outgrowth of that collaboration, said Flint Pulskamp, wireless semiconductor analyst for IDC Research.
"This is what I expected," Pulskamp told TechNewsWorld.
Intel controls the netbook market with its energy-efficient Atom processor, and its deal with Nokia made quickly developing such a product more feasible, Pulskamp said.