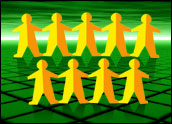 Facebook has joined the list of social networking sites available in the in-boxes of Outlook users, thanks to Microsoft's Outlook Social Connector.
Outlook users have been expecting Tuesday's announcement since November, when Microsoft said the service would be included in its Office 2010 suite. The social networking giant joins professional networking service LinkedIn and social networking site MySpace in Social Connector. Microsoft also added support for Live Messenger in its Tuesday release.
Social Connector works by including a "People Pane" that provides information about each sender, including posts from other social networking services. The Social Connector also links to company Sharepoint sites, downloading activity feeds from colleagues and placing them into the same People Pane information flow.
Users can make friend requests using the connector, but cannot send replies directly from within the service. For that, they must go directly to Facebook or use an intermediary service, such as email.
The free service is available for Office 2010, Office 2007 and Office.
Boon for Sales?
Similar offerings have been available via plug-ins for a while. For instance, Xobni provides similar functionality, touting its abilities to help users quickly find hidden relationships among contacts and hunt down emails quickly.
While adding time-sucking social networking offerings to a stalwart of the corporate office environment might at first seem odd, it's clearly an effort for Microsoft to keep its products relevant and at the center of users' lives, said Sheri McLeish, an analyst with Forrester Research.
"I think Microsoft's goal is really to propel and keep Outlook as that default location for people throughout their day," she told TechNewsWorld.
Adding social networking features and a richer stream of information could help the job performance of marketing and sales employees, for whom having a fuller picture of their clients can be helpful.
More Social World
However, Social Connector's lack of Twitter integration and of two-way communication for social networking will slow its adoption, maintained Forrester senior analyst Augie Ray.
Further, it's not likely that it will put an end to frequent trips to social networking sites to post updates and media, he told TechNewsWorld.
Still, it marks a shift in our approach to such activities, Ray conceded — one in which such services become more "organically" intertwined with other activities, such as monitoring email.
"The idea with Outlook's Facebook Connector isn't to permit workers to get more done," he observed, "but to permit them to know their peers and contacts better."