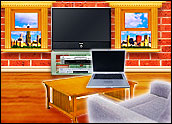 Two of the world's most important public broadcasters have seen the future of TV — and it is on the broadband Internet.
The Public Broadcasting Service (PBS), and the British Broadcasting Corp. (BBC) have disclosed plans to launch Internet-only programming, starting this September.
The PBS Internet TV show, dubbed "NerdTV," is touted as the "funniest" show on TV with the "nerdiest people in high-tech." BBC is going to offer feature films over the Internet — as well as one-week old broadcasts of its news and public affairs programming.
The PBS offering is generating the most publicity, as the show is going to be hosted by Robert X. Cringley, the nom de plume for PBS TV's legendary technology columnist, famed industry insider and author of the book, Accidental Empires: How the Boys of Silicon Valley Make Their Millions, Battle Foreign Competition, and Still Can't Get a Date.
TV for and by Nerds
Expected guests for the show include PayPal founder Max Levchin; the original Macintosh programmer Andy Hertzfeld; and Sun Microsystems' co-founder Bill Joy.
"NerdTV will have an uninterrupted hour with the smartest, funniest, and sometimes, nerdiest people in high-tech," said Cringley. "These are people who have changed our lives, whether we know it or not. Through NerdTV, a broad audience of enthusiasts and students will gain a much greater understanding of these techies and the context of their lives."
The hourly show will debut on September 6, and will have an initial run of 13 weeks. Once a show is broadcast over the Internet, it will continue to be available at the networks online archives. The content is available in MP4 video, and can be viewed in its hour-long entirety, or in smaller nuggets. An Internet-audio only version of the show will also be made available, in a number of formats, including MP3, Ogg Vorbis, and AAC.
"NerdTV viewers are actually encouraged to download and copy the shows, share them with friends, and even post them to their on Web sites," said a PBS statement.
The show will be distributed under a so-called "Creative Commons" license, enabling viewers to redistribute, or even edit, the shows, if they wish, said Cindy Johanson, senior vice president of PBS Interactive Learning. The producers expect that this model may change the way public television is distributed in the future. "NerdTV offers a cost-effective production model that may transform how programming is made in the future," said Johanson.
Subscriber Base?
PBS announced the new project on July 13 in Washington, D.C. BBC had earlier revealed its plans in London. Thus far, it is not known how many subscribers the "NerdTV" project will net. The BBC online project has about 5,000 participants willing to take part in its initial trial.
Some managers are worried that these kinds of Internet programs may distract workers from their primary task at the office — work. A new online survey by salary.com shows that workers waste 2.09 hours online each day at the office, at a cost of perhaps US$759 billion to the U.S. economy.
PBS is enthusiastic, however, about the possibilities for its new venture, which it characteristically views as educational, not entertainment, TV. "With more than half of American homes with Internet access now using broadband, computer video, especially downloaded computer video, have become a viable, but still little-used option," said Cringley. "The strength of this new medium can be found in how it serves niche audiences. This is where Internet distribution shines."