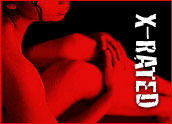 When Sony opened the proprietary Universal Media Disk (UMD) format it uses in its PlayStation Portable (PSP), it wanted to encourage other companies to provide content specifically for the hand-held device.
Sony Computer Entertainment, the wholly owned subsidiary of Sony responsible for its game segment, surely had tamer movies and music in mind, but at least two adult filmmakers said they will release porn flicks for the PSP next month.
The Japanese newspaper Asahi Shimbun, which broke the story, also reported today that other adult filmmakers are ready to follow suit.
"It is utterly undesirable, but we cannot stop software makers from selling such videos," the newspaper quoted a public relations official at Sony Computer Entertainment as saying.
Cyber Girl of the Year
Playboy latched onto the PSP in April, when it began offering "exclusive video and images of Cyber Girl of the year Amy Sue Cooper, photographed and formatted specifically for viewing on your PlayStation Portable."
Jay Horwitz, senior analyst with Jupiter Media, told TechNewsWorld that the development was unlikely to depress PSP sales.
"I doubt the availability of porn will have any more impact on sales of PSPs than on Internet or DVD player adoption," he said.
Despite the growing availability of video content, Horwitz said the real draw of the gaming device is simply the games.
"For the PSP, [movie viewing] is definitely a consideration point, but the quality of the movie experience is still pretty low given the small number of UMD titles available, and difficulties in getting short-form content through flash memory," he said.
More Movies on the Way
The number of available films is growing, however. In the past few weeks there has been a flurry of announcements from Paramount, MGM, Disney/Buena Vista, Image and Universal movies studios, which have all provided release schedules for movies compatible with the PSP.
Warner Bros. is the only major studio that has not signed on, but it has its own Mini-DVD, 3-inch format for players targeted at kids.
UMD uses 2.4-inch optical discs with data storage capacity of 1.8 GB, more than twice the memory of a CD-ROM. It can play up to two hours of moving images at a time.