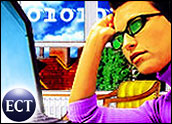 An investigative report by a government agency in the United Kingdom has revealed many disabled users find online chores that are routine for most people to be Herculean for them, as they "find it impossible to book a holiday, open a bank account or buy theater tickets online."
The study on Internet access was released this week by the Disability Rights Commission (DRC), which has offices in London, Manchester and Scotland. Government officials there describe the report as the "first comprehensive investigation" into the user friendliness of Internet sites.
The study examined sites produced by the government, businesses, the leisure industry and e-commerce companies.
Legal Challenges?
Regulators also issued a warning that many businesses "may not be complying with existing equal-access laws" in the United Kingdom and said it is "only a matter of time" before they face legal challenges from disabled consumers.
Speaking yesterday at the news conference announcing the investigation's findings, Bert Massie, DRC Chairman, told journalists: "The situation revealed by this investigation is unacceptable but not inevitable. The DRC is determined to ensure that this new, powerful technology does not leave disabled people behind."
The government worked with the Center for Human Computer Interaction Design at London's City University to complete the study. Researchers examined a representative sample of 1,000 public Web sites. Of those sites, 100 were subjected to in-depth scrutiny by a disabled user group whose members had a range of impairments. Researchers also interviewed more than 700 businesses that had commissioned Web sites and nearly 400 Web site developers.
The research revealed that 81 percent of the Web sites — 808 in total — failed to meet minimum standards for disabled Web access. The study also found the average homepage contains 108 barriers that make it impossible or extremely difficult for disabled people to use.
Screen Readers Not Enough
The evaluation of 100 Web sites by the disabled user group demonstrated that because of poor accessibility, more than a quarter of the most routine and straightforward online tasks could not be completed successfully. "Blind people were the most disenfranchised of Web users," the report said. "They were unable to perform nearly half the tasks set them despite using devices such as screen readers."
The DRC also found that levels of accessibility expertise among Web site developers were low, with just 9 percent claiming any expertise in building accessibility options for disabled users. Additionally, just 9 percent of developers had used disabled people to test their sites.
"Eight in 10 sites are next to impossible for some disabled people to use — that means no last-minute holidays, cheaper car insurance or lower rates of interest on credit cards. It also means a technological lockout from chat rooms and Web forums, from recruitment opportunities that are increasingly happening through the Web, and education and information services that have had an increased profile," said Massie.
A Duty To Be Accessible?
"The Web has been around for 10 years, yet within this short space of time, it has managed to throw up the same hurdles to access and participation by disabled people as the physical world," Massie said. "But it is an environment that could be made more accommodating to disabled people at a relatively modest expense."
Organizations that offer goods and services over the Web already have a legal duty to make their Web sites accessible to disabled people, he added.
"Our investigation contains a range of recommendations to help Web site owners and developers bring down the barriers to inclusive design. But where the response is inadequate, the industry should be prepared for disabled people to use the law to make the Web a less hostile place," he said.