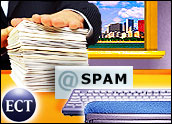 Nearly every e-mail consumers receive — some 86 percent — is considered spam, either malicious or simply "unwanted content" today, a new study provided to TechNewsWorld demonstrates.
"Of the 25 billion messages we processed in May, an astounding 86 percent were malicious or spam," said Andrew Lochart, senior director of marketing for Postini, a messaging security firm based in San Carlos, Calif.
As if that wasn't enough of a headache for corporate IT departments, instant messaging spam soared by 500 percent last month, just as businesses are embracing the technology for customer communications, and increasing their own usage of IM by 138 percent.
Two-Pronged Attack
"The combined increase in e-mail and IM indicates that malware writers now use a two-pronged approach to attack enterprise communication infrastructure," said Lochart.
Researchers said that antivirus experts last month stopped an array of viruses and worms, including Browaf, Tilebot and Khoobe, from infiltrating customers' networks via either e-mail or IM networks. Thus, threat prevention is emerging as a top priority for IT departments, followed by the visibility into, and control over, who within an organization is using public IM and e-mail.
"The fact that IM messages more than doubled in just one month shows the rate [at which] companies are adopting IM as a mainstream business communications tool," said Lochart. "The sheer volume of IM attacks is a dramatic demonstration that we're in an environment where hackers, knowing that most organizations are still unprotected against IM malware, are rapidly adopting IM for their attacks. That being said, IM attacks are still only a fraction of the number of e-mail attacks, so it's important companies keep up their guard on both fronts."
Last month, Postini alone processed more than 25 billion e-mail messages, a 13 percent increase from April, with more than 86 percent of all traffic being "malicious or unwanted" content. Of the 25 billion e-mail messages, an astounding 65 percent of those messages were rejected at the network layer — the only place to stop attacks like DHAs, i.e., directory harvest attacks, and DoS, or denial of service attacks, where there is absolutely no content in the body of the message to analyze with standard filtering techniques.
According to the Postini research report, the top five viruses last month were as follows:
MyTob: 5,206,192
Netsky: 2,492,450
Swen: 1,340,982
Mydoom: 803,051
LovGate: 788,252
Specific Groups Targeted
Sometimes, the fraudsters target specific groups of people. The Federal Trade Commission last week warned veterans to be wary of e-mail scams that take advantage of their fears arising out of the theft of a computer containing sensitive information on 26.5 million vets and active duty service members. Noting that "in the past, fraudsters have used events like this to try to scam people into divulging their personal information by e-mail," the FTC told veterans and their families to watch out for phishing attacks purporting to be from the government.
The FTC advised veterans as follows:
Do not give your personal information over the Internet unless you initiated the contact and know — or can confirm — with whom you are dealing.
Never click on links sent in unsolicited e-mails.
The VA and other government agencies do not contact people by e-mail or telephone either to ask them for — or to confirm — Social Security numbers or other personal information.
In reality, veterans' data that was stolen is in a format that is not usuable by anyone except the government. An internal memo drafted by a Veterans Administration (VA) privacy executive who was investigating the data theft at the agency said that the stolen records on 26.5 million veterans were stored in a digital format that would be difficult for the thief to actually use. According to the memorandum, the criminal who stole the information would need "specialized application software and training to access and manipulate the data for use."
What is more, according to John S. Quarterman, Internet Security expert, and president of Internetperils, an IT security consultancy, finding the source of large-scale phishing attacks is getting easier. His firm, working closely with the Anti-Phishing Working Group, recently helped help banks physically locate servers that phishers were using for their scams in Florida.