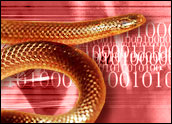 A worm that made its way into Reuters private instant messaging system, causing the company to temporarily shut it down, is a warning to enterprises, one IM security company told TechNewsWorld.
"This is a wakeup call for the entire enterprise market," Francis deSouza, CEO of IMLogic, which offers IM enterprise security, said. "If you're deploying instant messaging, deploying security should go hand-in-hand with it."
Voluntary Shutdown
Reuters, a news and information service, found the W32/Kelvir-Re worm yesterday in its Reuters Messaging, a private system based on Microsoft's IM, and shut the network down itself to eliminate the worm. It was up and running again this morning. Kelvir can slow down systems by sending tons of messages that hog bandwidth.
Unlike Reuters. whose IT department controls the IM system, many enterprise IM systems have grown from the bottom up when employees download free IM software and begin using it to communicate with other workers.
"For IT departments, it is often a two-step surprise," deSouza said. "In the first step, a lot are really surprised to learn how much instant messaging occurs in their company. Second, then they get hit by malware."
Scrambling After Attack
Then administrators have to figure out which computers on the network have IM software on them and then they have to educate themselves on how to eliminate the malware and protect their networks in the future. Just as with attacks on other forms of Internet communication, threats to IM are growing.
IMLogic threat center, a consortium of industry bigwigs including AOL, IBM, Microsoft and Yahoo, last week released its first quarterly report on IM threats. The group said it recorded more than 75 unique IM and peer-to-peer threats and projected that the numbers will continue to rise.
The more users a communication method has, the more likely it will be a target, deSouza said, but that does not mean that individuals or enterprises must fall victim.
"The biggest risk about IM is that most people are not aware that there are security threats over instant messaging so they don't take the precautions," he said. "Unprotected, the risk is higher [than with other communication methods]. Protected, IM is the safest method of communication."