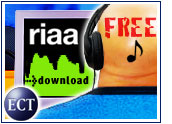 The Recording Industry Association of America (RIAA) this week brought out another round of copyright infringement cases, including lawsuits against individuals at 14 U.S. universities. The civil actions targeted 477 alleged file-sharers, including 69 individuals allegedly using university networks to distribute copyrighted sound recordings illegally on unauthorized peer-to-peer services.
"Consumers, including college students, have access to a wide variety of legal music services that offer high-quality music online," said Cary Sherman, president of the RIAA. "Illegally downloading music from the Internet costs everyone — the musicians not getting compensated for their craft, the owners and employees of the thousands of record stores that have been forced to close, legitimate online music services building their businesses, and consumers who play by the rules and purchase their music legally."
The RIAA said the university networks used for this illegal activity include schools in Connecticut, Georgia, Kansas, Michigan, Minnesota, New Jersey, Pennsylvania, Rhode Island, Texas, Virginia and Washington.
John Doe Lawsuits
As in earlier lawsuits, the RIAA said it is using the "John Doe" litigation process, which is used to sue defendants whose names are not known.
"It remains as important as ever that we continue to work with the university community in a way that is respectful of the law as well as university values," said Sherman.
"That is one of our top priorities, and we believe our constructive outreach has been enormously productive so far," he said. "Along with offering students legitimate music services, campus-wide educational and technological initiatives are playing a critical role; but there is also a complementary need for enforcement by copyright owners against the serious offenders — to remind people that this activity is illegal."
The continuing legal efforts are helping to establish an environment where legitimate online music services can flourish and are driving growing awareness that downloading or "sharing" copyright music files without authorization is against the law, said the RIAA.
Soundscan recently reported that there were 25 million legal downloads of songs in the first quarter of this year. MusicNet and Cflix on Tuesday announced a new partnership that offers students access to a legal online music alternative.
Downloaders Discouraged
The Pew Internet & American Life Project recently released findings that some 6 million former music downloaders have stopped the activity since the record companies commenced their legal campaign against illicit file-sharing.
In addition to the lawsuits by the private sector, the government is cracking down on illegal file sharers, too.
Attorney General John Ashcroft and the U.S. Department of Justice last week announced "Operation Fastlink," a law-enforcement operation encompassing 10 countries and 120 searches worldwide to "dismantle some of the most well-known and prolific online piracy organizations."
RIAA Praises Department of Justice
Mitch Bainwol, chairman and CEO of the RIAA, said the move was "a forceful blow at global piracy operations that have been wreaking enormous damage on creative communities around the world. This is a sizeable achievement, and creators all over the world owe a debt of gratitude."
Bainwol said sophisticated piracy operations like those targeted by the Justice Department often seed unauthorized file-sharing networks with new music, particularly those songs not yet commercially released.
"Artists and labels work day and night to get the music just right, and the premature release of an album before it is intended for sale to the public scoops the legitimate market and causes enormous economic harm," he added.