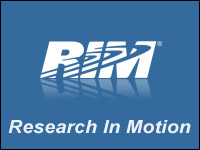 It has not been a great year for RIM, the Canadian maker of the BlackBerry device simultaneously loved and hated by millions of corporate employees.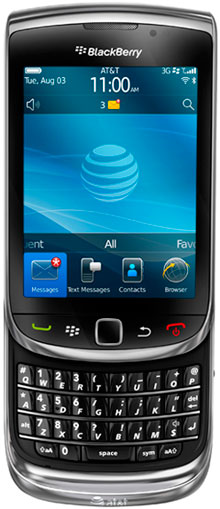 BlackBerry Torch 9800
The company has seen its stock price slip by more than a third and its market share among new smartphone customers dwindle from 45 percent in the spring of 2009 to 33 percent a year later, according to Nielsen's latest numbers.
Against that backdrop, it's no wonder that the long-anticipated launch of its consumer-friendly smartphone is a big deal for the company. RIM President and co-CEO Mike Lazardis even called it "one of the most significant launches in RIM's history."
The question is whether it will deliver.
Device Specifics
The Torch is a 4.4 inch by 2.4 inch slider device weighing 5.68 ounces. It features as 3.2-inch 360×480 capacitive touchscreen and a a 35-key QWERTY keyboard and optical trackpad.
It runs on a 624 Mhz processor with 512 megabytes of flash memory and has 4 gigabytes of internal storage, along with a microSD/SDHD card slot supporting up to 32 gigabytes. A 4-gigabyte card is included.
The phone features a 5 megapixel camera with flash that records video at up to 640×480.
Wi-Fi and GPS are also included.
BlackBerry 6 OS
Much of the Torch experience centers around the new BlackBerry operating system rolled out by RIM. The Torch will be the first phone to launch with the new OS.
Version 6 includes new messaging features, including Facebook, Twitter, MySpace and BlackBerry Messenger integration with support for group messaging with up to 10 contacts. It also includes visual voicemail and access to the BlackBerry App World marketplace. It also allows for touch gestures such as pinch and zoom.
The redesigned browser, which is based on WebKit, features a tab-based design.
The phone also features several software features to make it easy to find and download videos and TV shows, watch live TV, and create videos for upload to YouTube.
Finally, the OS supports a universal search function allowing users to search email, messages, contacts, videos and other information on the phone, as well as the Internet and BlackBerry's App World.
Consumer-Centric Focus
The device and the software experience are clearly consumer-centric, said Michael Gartenberg, vice president of the Altimeter Group.
"They said this is the best BlackBerry they've ever done. I'd probably agree with that," he said.
Yet that may not necessarily be enough to keep RIM relevant in an increasingly crowded, innovative and fast-moving smartphone market, he said.
"I don't think they've quite met what the leading-edge devices are doing today," Gartenberg told TechNewsWorld. "They didn't raise the bar, they didn't jump over the bar, but they met the bar in many respects."
Among other things, the phone lacks the widgets of Android, the front-facing camera of the iPhone 4, and the larger, higher resolution screens of both its main competitors, Gartenberg said.
While the device and new operating system make the phone a natural candidate for BlackBerry aficionados, whether by choice or corporate edict, such omissions call into question whether the phone can compete in an open marketplace for consumers who might be drawn by Apple's FaceTime video conferencing or the big, bright, high-resolution screens of a Droid X.
Offering a slightly different take, Nick Agostino, an analyst with Mackie Research, said the Torch brings RIM up to date with its major competitors in the areas that count to many consumers, such as browsing speed, touch gestures and social networking integration.
"Measuring from that standpoint, I think they've done well," Agostino told TechNewsWorld.
The new hardware and software won't turn off enterprise users, who still make up the bulk of RIM's customer base, he said, and it provides an opportunity to plant the seed for further entry into the corporate marketplace by appealing to consumers who will bring the device to their employers.