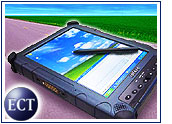 The rugged-computing industry — which seeks to make computers compatible with environments that are at odds with delicate electronics — is one of the fastest-growing segments of the mobile-computing marketplace. Surprisingly, research firm Venture Development estimates the rugged-computing market will reach US$6 billion in sales worldwide by 2005.
As wireless technology has saturated the computing marketplace over the past few years, business applications — specifically geared toward field work — have correspondingly flourished. Without rugged-computing technology, these field applications would be hamstrung.
Being rugged does not mean merely strengthening the outside of the computer's case; it means protecting all the components inside. On the low end of the spectrum are common commercial laptop computers, which are usually no match for environments in which they can be dropped or subjected to water or dust.
True rugged mobile-computing devices are designed to resist vibration, dust, water, temperature extremes and repeated drops onto hard surfaces. This category of devices typically meets or exceeds MIL-STD 810F, a 539-page military standard for testing ruggedized compliance.
"Military standards for ruggedization have always been an attractive market for manufacturers," AMR Research analyst Louis Columbus told TechNewsWorld. "The fact that combat efforts are now more coordinated than ever before electronically is invigorating the need for ruggedized electronics equipment."
Ruggedization Tech
More and more, engineers, developers and designers are being asked to work from a remote site or customer location, and lugging around a workstation isn't their idea of a good time, industry analyst Rob Enderle told TechNewsWorld. "However, because these environments are often hostile and the data on the machines critical, increasingly we are seeing the use of hardened — ruggedized — products to address these problems," he said.
The potential cost of recovering lost data or lost work because computing equipment isn't running often easily outweighs for the extra cost associated with ruggedization, said Enderle.
In most cases, he noted, ruggedization is a combination of protecting the spinning media, the hard drive, from shock and protecting the rest of the computer from environmental changes, like rain. "New advances have to do with being able to work with multiple wireless technologies," he said, "and in being able to switch dynamically between network types, primarily because these folks are in motion much of the time."
In the end, consumer PDAs and laptops might benefit from the ruggedization technologies that are designed more for military applications today. "For instance," said Enderle, "one of the newer technologies weds a potentiometer — a kind of a small gyroscope — with the hard drive so if the device is dropped, the drive parks the drive heads and protects the media."
According to Enderle, this technology will start showing up in consumer laptops next year.
Making News
This seemingly small, niche market is nevertheless big enough to support several companies that manufacture nothing but hardened PCs. This week, for example, CRI, a supplier of modified commercial off-the-shelf systems, announced several new ruggedized SGI systems for use in harsh environments.
CRI, based in Austin, Texas, supplies the defense industry with ruggedized systems to support ballistic missile defense, intelligence, surveillance and reconnaissance. Its ruggedized computers include shock mount, rackmount and high- or low-temperature modifications of SGI visualization and storage systems.
"We offer a wide range of standard repackaged and rugged SGI products designed to operate reliably in demanding environments," said David Bosco, general manager at CRI. "SGI workstations, servers, supercomputers, storage, displays and more have been carefully repackaged for rackmounting, mobility and transportability — and ruggedized for high shock and vibration, electromagnetic and radio frequency interference, and extended temperature ranges."
Literally hundreds of the company's ruggedized SGI systems have been deployed by the military worldwide, said Bosco, and many have been battle-tested in the Middle East.
SGI Missile Defense
CRI developed recent SGI workstations for the Joint Tactical Air Ground Stations (JTAGS) systems, which play a role in theater missile defense.
The company also builds the SGI Onyx systems that power the mobile satellite ground stations for the U.S. Air Force's Space-Based Infrared System (SBIRS), America's next-generation ballistic missile early warning system. The Silicon Graphics Onyx2 visualization systems used in the SBIRS mobile ground stations require modification to meet military requirements for form, fit and function.
"The new era of battlefield intelligence has emerged, and it's a great vertical market for the computing horsepower in workstations," AMR's Columbus told TechNewsWorld. "A workstation's ability to interpret, transmit and act on intelligence in a battle theater is a strategy advantage."
According to Columbus, there always will be a need on land, sea and air vehicles to be connected with broader information systems. "The coordination of military campaigns requires real-time electronic communications, and the ruggedized componentry makes taking workstations to remote locations [a possibility]," he said.
Meeting the MIL-STD
"Generally speaking, rugged computing devices will become more commonplace," Jarad Carleton, Frost & Sullivan IT industry analyst, told TechNewsWorld. "The more you move a laptop, the more they're going to be prone to damage. That's the dirty secret of the laptop industry. Yes, they are mobile, but they can't withstand a lot of damage."
While most of the companies producing ruggedized laptops are not selling machines through consumer channels, several companies — including Itronix and Xplore Technologies — are catching the eye of the consumer press. Itronix recently announced a new ultrarugged computer that goes beyond the specs set by the military requirements.
The MIL-STD typically sets the bar for what qualifies as a rugged computer. To meet the standard, manufacturers must produce a computer than can withstand 26 one-meter drops onto plywood over concrete. The military says it is acceptable to use five computers to pass this test. According to Itronix, the company's GoBook MAX exceeds MIL-STD by surviving 54 repeated drops with a single computer — dropping it on all sides, open and closed, even with the computer on.
Consumer Trajectory
Meanwhile, Xplore Technologies last month announced a partnership deal with Dell to distribute ruggedized Tablet PCs to the U.S. federal government. Xplore's iX104G Tablet PCs have been designed for environments that include temperature variations, drops, vibration, moisture, dust, solar radiation, salt, fog and altitude.
"I think it's going to take a major PC manufacturer [releasing ruggedized computers] before you start seeing them in places like CompUSA," said Carleton. "There aren't any major plans right now for manufacturers to start coming out with them."
However, Carleton pointed out that consumers who want ruggedized PCs right now can buy hardened laptops from several companies, including Panasonic. "I think we'll need to see the price point drop first, but a lot of corporate users are going to realize that it's cheaper to buy a ruggedized PC than to have to replace one that's been damaged," he said.