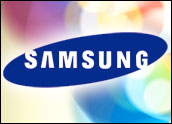 Samsung has claimed to be the first electronics manufacturer to begin mass production of a 16 GB NAND flash memory chip to be used in digital music players, music phones and digital cameras.
The South Korean electronics maker said the new chips are being put into mass production using 51-nanometer process technology, which it claims is the smallest process technology used in memory mass production to date.
Faster and Cheaper
The 51nm NAND flash chips can be produced 60 percent more efficiently than those manufactured using the bigger 60nm technology, according to Samsung.
"In rolling out the densest NAND flash in the world, we are throwing open the gates to a much wider playing field for flash-driven consumer electronics," said Jim Elliott, Samsung's director, flash marketing.
The announcement comes one month after Samsung put the finishing touches on its 8 GB chip — a high-density, embedded flash memory device capable of storing up to 2,000 songs on a mobile phone — and less than a year after it began production of its 60nm 8 GB NAND flash in August 2006.
"To minimize production costs and improve performance, we have applied the finest process technology a 'half-generation' ahead of the industry, which is introducing 55nm and higher," Elliott said.
Integrating Chips
Samsung will now integrate the chip with a suite of flash software and firmware for use with storage devices to be included inside music-playing mobile phones and MP3 players.
As the demand for video content grows, Samsung expects to promote the chip for storage in mid- to high-range digital cameras, Daniel Longfield, an analyst with Frost & Sullivan, told TechNewsWorld.
"The company expects the high-capacity chip to enter the mainstream market beginning late this year," Longfield said.
The 16 GB chip has a multilevel cell (MLC) structure — meaning that 16 GB of data can be held in a single memory card, according to Longfield.
In applying the new process technology, Samsung claims to have accelerated the chip's read and write speeds by approximately 80 percent over current MLC data processing speeds.
In addition, Samsung has been pushing the flash technology, with the release of its 64 GB solid-state flash drive for ultra-portable notebooks.
"Enterprises will likely play a big role in the evolution of these technologies," said Longfield, noting that mobile devices are increasingly being weighed down with greater workloads for business uses.