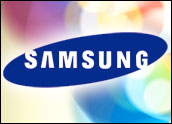 Korean electronics maker Samsung has unveiled a new mobile phone with sleek features and functions that are similar to Apple's recently announced iPhone.
The company delivered the new Ultra Smart F700 at the 3GSM World Congress in Barcelona, Spain. The handset, which even looks a lot like the iPhone, has touch-screen capabilities and plays audio and video files. The 2.78-inch display has a resolution of 440 by 240 pixels and runs a version of the Mac OS X operating system.
Shrinking Devices
Although Samsung's device is approximately the same size as the iPhone — roughly 4 inches long by 2 inches wide and about two-thirds of an inch thick — it has added features, including a pull-down Qwerty keyboard and support for 3G, specifically HSDPA (High-Speed Downlink Packet Access), which has speeds theoretically as high as 7.2 Mbit/second, the company said.
Mobile phone makers have been playing catch-up with Apple's iPhone, which was unveiled last month by CEO Steve Jobs. The F700 takes direct aim at the market.
"The Ultra Smart F700 is a good example of how the mobile phone will evolve in the future," Choi Gee-sung, president of Samsung's Telecommunications Network Business, said Thursday.
The iPhone has no 3G support. Rather, it supports only slower, so-called 2.5G technologies such as EDGE (Enhanced Data rates for GSM Evolution).
More Tech Coming
Manufacturers are packing more and more technology on shrinking mobile gadgets these days, said Daniel Longfield, an analyst with Frost & Sullivan, and as companies ratchet up competition in this space, tech enthusiasts can expect to continue reaping the benefits.
"There is growing demand to have more digital content and entertainment on these devices," Longfield told TechNewsWorld. "We are going to keep seeing the converging of technologies on a single device."
Lacking Connectivity
Samsung seems to be trying to pack as much as it can on its new phone. The Ultra Smart F700 also sports a 5-megapixel camera and a microSD slot for additional storage, as well as Bluetooth support, according to Samsung.
However, it doesn't measure up to the iPhone in terms of connectivity. The iPhone has WiFi support, which gives users more connectivity options.
The iPhone also comes with touch controls, and functions as an Internet communications device withe-mail and Web-browsing functionality, as well as maps and search services. The iPhone also introduces a new user interface based on a large multi-touch display and new software, according to Apple.
Samsung didn't say how much its competing Ultra Smart F700 phone will cost or how much memory it will have. Nor did it specify a launch date or which cellular operators will offer the product.