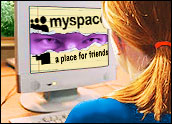 Using subscriber information provided by MySpace, Texas officials have arrested seven previously convicted sex offenders who illegally created profiles on the site. The arrests were described as the nation's "first large-scale crackdown" on MySpace-enabled predation.
The busts came after a two-week-long investigation aided by MySpace's release of the suspects' subscriber information, Texas Attorney General Greg Abbott said. The News Corp.-owned social networking site turned over the data "at the demand of attorneys general across the country," said Abbott in announcing the arrests.
"Let me first say we're all aware the Internet is an essential tool for business, education and information, and even a place for fun," said Abbott. "It's a place where young kids can go and be involved in a complete new social world. Unfortunately, the Internet is also a place we see that criminals are lurking, looking for a child they can victimize."
A Lurking Danger
Abbott's office's "crackdown" on online sex offenders has so far yielded 93 "of these very dangerous predators," he said. Investigators are repeatedly contacted by predators who, thinking they're communicating online with a 13-year-old girl, set up dates, times and locations for meetings where they intend to engage in sexual assault, he added.
The attorney general characterized MySpace as a "magnet" and virtual "buffet" for sex predators, an online treasure trove "where they can select their next target."
Most of the people nabbed in this week's sting were arrested on charges of violating provisions in their paroles that banned them from having MySpace profiles.
Do Something, or Else
In May, the Texas attorney general subpoenaed MySpace and demanded the release of subscriber information for all registered sex offenders with online profiles. MySpace complied by using information from Sentinel Safe, a database on registered sex offenders the network created to verify its members' identities, said Abbott.
"Attorney General Abbott has repeatedly pressed MySpace.com and other social networking sites to implement definitive safety measures to protect their young users from sexually explicit images and unwanted sexual advances," said Abbott's office. "Since the push from Attorney General Abbott and other attorneys general, MySpace.com has taken steps to improve safety on its site, including screening profiles for inappropriate content and making certain profiles private."
The case is the latest in a series of similar incidents that all illustrate the complexities facing law enforcement and Internet-based companies that gather personal information, said technology analyst Greg Sterling, principal analyst of Sterling Market Intelligence.
Pulled in Different Directions
"There is a certain tension there, on a philosophical level, between having a fidelity to user privacy and security and a compliance with the law and other interests who may be seeking to find out about the sites' users," Sterling told TechNewsWorld. "It's a pretty delicate balance. Nobody wants to protect sex offenders. That's kind of the lowest rung on the list of criminals and, certainly, MySpace doesn't want the site to be seen or used as a tool for them to identify and pursue underage teens."
However, he said, operators of sites can face problems if the public believes "they're too eager to be an instrument of law enforcement." While nobody will argue for protecting sex predators, "there are other areas where … it just alienates your users if you're seen as somebody who is going to turn over your information."
It will take some time before the world settles on the best ways to deal with these conflicting interests, said Sterling. "We're in this whole very interesting new area of technology," he said. "These technologies are creating all sorts of new legal issues and questions that society has yet to answer. Technology is moving much faster than a lot of the other institutions that are intended to govern behavior such as social mores, laws and legal structure."
While warning that sites such as MySpace can be dangerous for minors, Abbot said they can also play a part in safeguarding potential victims. "By providing law enforcement with this critical user profile information, MySpace.com has taken an important first step towards a safer Internet," he said. "We urge all social networking sites to do whatever is necessary to protect children from Internet predators."