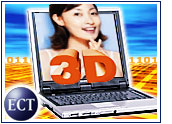 Coming to a notebook near you — it's 3D display technology from Sharp. But industry observers say it is likely to be a slow start for the Mebius PC-RD3D notebook, which the electronics giant is planning to release in Japan next month and in the United States by the end of the year.
Sharp said its 15-inch, three-dimensional LCD display, which allows true 3D viewing without special glasses, controls the direction in which light leaves the display, delivering different images to the left and right eyes.
The notebook computer — featuring a 2.8-GHz Intel Pentium 4 processor, 512 MB of DDR SDRAM memory, a 60-GB hard drive, a DVD drive and the Nvidia GeForce 4 440 graphics chipset — is intended for content developers, medical care workers, computer design artists and other professionals.
IDC notebook analyst Alan Promisel told TechNewsWorld that the Mebius PC-RD3D also might gain traction among consumer gamers looking for a 3D experience. "There's a lot of movement now in the higher-end notebook space," he said. "Really, Japan's going to be a bellwether on how good the technology is."
3D in Your Face
Sharp, which did not disclose pricing information on the Mebius PC-RD3D, said it achieves the 3D display by controlling the direction of light with a "parallax barrier system" — a conventional TFT LCD display with the addition of a specially developed switching liquid crystal.
"This ensures that different patterns of light reach the left and right eyes of the viewer," Sharp said in a statement. "The images for both the left and right eyes are displayed on the TFT LCD, resulting in a 3D display in which the appropriate images reach each of the viewers' eyes."
Sharp also said the 3D mode can be turned off easily to allow conventional, 2D viewing of documents and spreadsheets.
Supporting 3D Software
While the Mebius PC-RD3D ships with 3D animation and sample software in addition to its Microsoft Windows XP Pro operating system, a lack of true 3D rendering applications and compelling software for the PC-RD3D might limit the notebook's early success, Mercury Research president Dean McCarron told TechNewsWorld.
"At first, without additional software support, [the Mebius PC-RD3D is] an expensive conventional notebook," he said. "We're probably very early in the development of this particular segment. It's not inexpensive, and most of the software today does not do the type of rendering the notebook is intended for."
Still, McCarron indicated that with support from influential game developers supplying software for Sharp's 3D display mode, the PC-RD3D could find a niche. The analyst also said there is quite a bit of existing 3D software for games, including Half-Life and Quake.
Primed for 3D Pros
Sharp said its 3D notebook technology provides an environment to draw three-dimensional images smoothly while giving users the 3D display experience through preinstalled content, including sample animated pictures.
Promisel, who referred to Sharp's "thin" market penetration in the United States, said the notebook primarily will benefit computer aided design (CAD) and modeling. "Anything with an emphasis on graphical interface could find this to be a pretty big benefit," Promisel said.
Japanese Jump Off
The notebook is scheduled for release in Japan, where Sharp has had success with 3D displays on cell phones, on October 27th, the company said. The United States rollout is expected soon after that, but analysts downplayed the notebook's American prospects.
Promisel referred to a more developed mobile phone market in Japan, with more advanced technologies and a larger emphasis on notebooks and entertainment. McCarron said he expects a typical, positive response to the 3D notebook in Japan, while the computer will likely be limited to specialty markets — CAD and visualization — in the United States.
"In Japan, they tend to be more early adopters and more tech-conscious," McCarron said. "In the U.S., mainly because of price, I expect volumes will be relatively low."